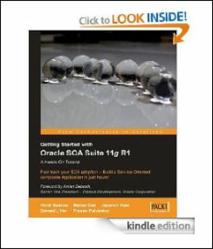 UK (PRWEB) December 03, 2011
Birmingham: Packt Publishing is pleased to report that the book Getting Started With Oracle SOA Suite 11g R1 - A Hands-On Tutorial is now available on Amazon's Kindle. This fully illustrated step-by-step tutorial is based on proven training material that has been praised by developers in product training courses given as part of the SOA Suite 11g rollout.
SOA has evolved from being a buzzword into a mature technology, and is now used in mission-critical systems all around the world. With Oracle SOA Suite 11g, Oracle provides a complete, integrated, standards-based and best-of-breed solution to build and manage large, highly demanding SOA projects.
The book starts by introducing key SOA concepts, and emerging standards such as Service Component Architecture (SCA), that are key to understanding Oracle SOA Suite 11g. The remainder of the book, written in the form of a tutorial, will quickly guide new and experienced developers through the complete breadth of features and components offered by Oracle SOA Suite 11g.
Packt Publishing has developed numerous books on Oracle Fusion Middleware. These titles include:
1. Oracle SOA Suite 11g R1 Developer's Guide
2. Getting Started with Oracle BPM Suite 11gR1 – A Hands-On Tutorial
3. Oracle Weblogic Server 11gR1 PS2: Administration Essentials
4. Oracle Fusion Middleware Patterns
5. Oracle Enterprise Manager Grid Control 11g R1: Business Service Management
In January, Packt will publish:
Oracle JDeveloper 11gR2 Cookbook
All Packt's Oracle Fusion Middleware books can be found on the company website.
About Packt Enterprise. Packt has published more than 60 books on Oracle technologies. All Packt books are available in Print, eBook, and select library formats. Last year, Packt launched PacktLib – an own inhouse library platform where all Packt titles can be accessed through any web connected browser. An Oracle specific library has also been developed, for a low annual cost of just $120 per year.
Information on Packt's Oracle Fusion Middleware projects can be found on the Fusion Middleware twitter feed: @Packt_OracleFMW
###