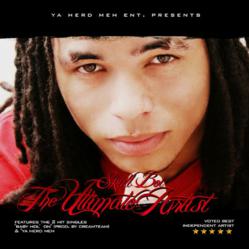 Miami, FL (PRWEB) December 03, 2011
Rap artist Skull Boi recently released his [mixtape "The Ultimate Artist." Ya Herd Meh Entertainment and Coast 2 Coast Mixtapes present the project, which is now available for free download. "The Ultimate Artist" features Skull Boi on tracks with Killah Kane, Yatta Boy, Young Cash, Shireboy, and Trell DG. Production is added by CreamTeam, Lil P, Versatile Traxx, and Yellakid.
Eighteen-year-old Skull Boi has come a long way in his short career. He got started writing at eight years old because his two older cousins, J-Skyline and Yung Assassin, encouraged him to start rapping. He didn't take it too seriously until Yung Assassin was killed, and now feels that he does his music for his cousin. Performing at some of the biggest clubs in Jackson, Skull Boi has gone from performing at high school concerts to teen clubs, and now to bigger venues in his area.
Citing Soulja Boy as one of his influences because of the artist's passion and grind at such a young age, Skull Boi also lists Lil Wayne for being able to make it out of the city of New Orleans, which Skull Boi has fortunately been able to do as well. In addition to "The Ultimate Artist," Skull Boi is working on two additional projects: a freestyle mixtape entitled "Shark Out That Katrina Water" and an LP called "Dreaded Eagle." He is also building upon his label, Ya Herd Meh Entertainment (YHM) and has plans to move to Orlando, FL shortly, feeling it's time for him to move and expand.
"The Ultimate Artist" is available for free streaming and download at http://coast2coastmixtapes.com/mixtapes/mixtapedetail.aspx/skull-boi-the-ultimate-artist
###