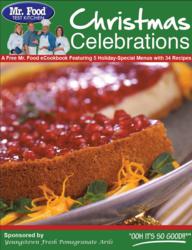 "The entire Christmas Celebrations eCookbook is designed to easily take readers step-by-step through the holidays from start-to-finish." — Test Kitchen Director Patty Rosenthal
Fort Lauderdale, FL (PRWEB) December 03, 2011
The Mr. Food Test Kitchen has an early Christmas present for everyone who visits MrFood.com. It's their free Christmas Celebrations eCookbook, packed with 5 complete holiday-special menus. Included are 34 must-have recipes ranging from appetizers and main dishes to incredible desserts, all sure to make the season tasty and bright. Available for immediate download, this is any busy holiday cook's survival guide.
Test Kitchen Director Patty Rosenthal explains that, "The entire Christmas Celebrations eCookbook is designed to easily take readers step-by-step through the holidays from start-to-finish. This is probably one of the most sought after eCookbooks. It contains lots of new recipes as well as old favorites that can truly stand the test of time." The five chapters include a Tree Trimmin' Menu, Holiday Appetizer Party, Christmas Eve, Christmas Morning Brunch and Traditional Christmas Dinner.
With irresistible nibblers like Chocolate Wreath Fudge and Cherry Mint Cookies, small bites such as Holiday Pinwheels and Cocktail Bundles, comforting classics like Deck-the-Halls Chili, rise-and-shine favorites such as Jolly French Toast Bake and Christmas Morning Strata, plus company-fancy offerings including Sherry-Glazed Ham and Pistachio Poinsettia Cake, there is something for every budget and taste bud.
Sponsored by Youngstown Fresh Pomegranate Arils, the free eCookbook also boasts a selection of recipes featuring the ruby red sparkle and burst of freshness of pomegranate arils, including the show-stopping Creamy Cheesecake with Pomegranate Topping and refreshing pomegranate-infused Santa Spritzer.
A separate eCookbook, 12 Days of Christmas Cookies, will be offered for free download as a companion to round out this keepsake collection.
With the holidays being the most hectic time of year for most people, the Mr. Food Test Kitchen has truly outdone themselves by taking the guess-work and the hard work out of the most wonderful recipes of the season. The free Christmas Celebrations eCookbook has lightened Santa's load as he makes his way from the North Pole to welcome in the season, with the knowledge that the Mr. Food Test Kitchen has already delivered on the..."OOH IT'S SO GOOD!!®"
###