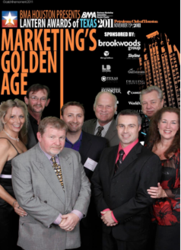 Houston, TX (PRWEB) December 05, 2011
DisplayWorks LLC, a leader in design, fabrication and management of tradeshow exhibits, events and environments, announced today that the company received seven prestigious awards at the Lantern Awards Banquet, which was sponsored by the Houston Chapter of the Business Marketing Association, on November 15, 2011. The Lantern Awards is Texas' premiere awards event that recognizes outstanding achievements in the field of B2B marketing and is held annually at the Petroleum Club of Houston.
DisplayWorks competed in the category of Trade Shows, Exhibits & Special Events and was awarded for the following projects:
Large Custom Exhibits (over 500 sq. feet)

THQ — E3 2011 Exhibit (Lantern Award)
Toshiba Medical Systems America — RSNA 2010 Exhibit (Medallion Award)
HTC — CTIA 2011 Exhibit (Medallion Award)
Themed Special Event
Parrot — E3 2011 Exhibits (Medallion Award)
Trade Show Campaign (overall campaign & exhibit)
D-Link — CES 2011 Exhibit & Marketing Campaign (Medallion Award)
Rookie of the Year
Lifetime Achievement Award
Laura Ryan-Floyd, Sr. Account Executive – DisplayWorks Houston
In addition to the awards for client projects, DisplayWorks Houston was honored as "Rookie of the Year" at the gala event. Although DisplayWorks has been in business for 31 years, the company recently established a presence in the Houston area with a 64,000 sq. foot sales, design and production facility to maximize their customers' success at trade shows and events around the world.
The final award of the evening was a Lifetime Achievement Award, which was presented to Laura Ryan-Floyd, a Sr. Account Executive at DisplayWorks' facility in Houston. Ms. Ryan-Floyd has been involved in the trade show industry for almost four decades, and has developed a reputation for providing exceptional service and support to her customers. Laura Ryan-Floyd also served as the President of the Business Marketing Association – Houston Chapter and was on the Board of Directors for over 9 years. She continues to be a dynamic and positive force within the Houston business community.
Herb Hite, DisplayWorks CEO, stated, "We couldn't be more proud of the DisplayWorks team in Houston. They have given the company an extremely positive introduction to the Houston business community in a short period of time. We are honored to be recognized by the Houston Business Marketing Association and we look forward to furthering our support to local businesses in the coming years."
About DisplayWorks
DisplayWorks is a premier exhibit company specializing in world-class design and customer service. With over 31 years of experience, DisplayWorks has earned the trust of high-profile clientele across wide range of industries. From national and global exhibit programs to events and environments, DisplayWorks provides creative expertise and strategic capabilities to deliver solutions that get results. For further information, please visit http://www.displayworks.com.
About the Business Marketing Association (BMA)
Established in 1922, the Business Marketing Association is the only leading professional association dedicated to connecting B2B marketers with new ideas, knowledge and people. The BMA Houston Chapter is one of 25 chapters of the national organization and has been hosting the BMA Lantern Awards for more than two decades. For further information, please visit http://www.bmahouston.com.
###