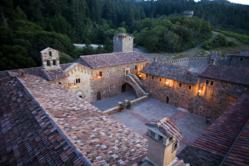 Napa Valley, CA (PRWEB) December 02, 2011
Organizations creating and donation wreaths include Community Women's Orchestra of Oakland, COPE Family Center of Napa, Cyberville Technology Center of Napa, Erica Huether, Aspiring Napa Artist, Kiwanis Club of Greater Napa, Napa Humane, Parents CAN of Napa, and Soroptimist International of Napa.
Raffle tickets for $1.00 each maybe purchased at the Castello and 100% of the raffle ticket proceeds will go to the non-profits.
The festivities kick into high gear on December 10, as Castello di Amorosa welcomes the Sylvan Singers from Will C. Wood High School in Vacaville. 35 singers will perform from 10:30 a.m. until 5:30 p.m. in the Castello's Chapel and Great Hall.
Music will fill the Castello on Sunday, December 11, 2011 as the Charles Dickens Merrie Ole Christmas Carolers perform from 10:30 a.m. until 12:30 p.m. The Community Women's Orchestra of Oakland will perform from 1:00 p.m. until 2:00 p.m. The Three Tenors will perform from 3:15 p.m. until 5:00 p.m.
A perfect compliment to music is warm food. There's nothing more soothing than hot, fresh pizza cooked in the Castello's 13th Century-styled, Outdoor oven. Staff at Pizzeria Tra Vigne of St. Helena will prepare and serve Margherita and pepperoni pizzas. Napa Valley's Elaine Bell Catering will provide warm, savory butternut squash soup, creamy tomato soup, and potato/leek/mushroom soup along with vegetable pannini. Additional culinary delights include 100 percent organic chocolate hand-crafted by Monterey Chocolate Company. Chocolate samples will be offered and items for purchase will be available.
Holiday Cheer Weekend, Featuring Holiday Wreaths for Charity is open to the general public. On December 10-11, the cost is $15 in addition to the normal tour and/or tour and tasting fee. The wreaths will be on display and the public can donate through December 31, 2011.
For more information call or email media contact Jim Sullivan at 707-967-6278 or email: JimS(at)castellodiamorosa(dot)com
###