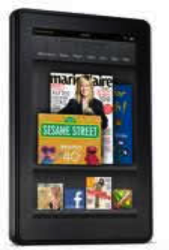 Our December giveaway sign up period is coming to a close," Sprague continues. "The last day to sign up is December 10, and we'll be announcing the new winner two days later, on December 12
Salt Lake City, UT (PRWEB) December 05, 2011
Professional Development Producer School Improvement Network is excited to announce the winners of its November 2011 Kindle Fire give away promotion.
"Our thanks to everyone who signed up," says Duane Sprague, Director of Marketing for School Improvement Network, "and congratulations to the November winners: Karen Elder of Springfield, Ohio, Andrea Layman of Fairview, West Virginia, and Michele Lewis-Goodrich of Baltimore, Maryland."
"Our December giveaway sign up period is coming to a close," Sprague continues. "The last day to sign up is December 10, and we'll be announcing the new winner two days later, on December 12."
Entering the Kindle Fire give away is easy: simply go to http://www.commoncore360.com and sign up for a free 30-day trial of Common Core 360, the industry's leading, online tool for navigating and implementing the Common Core Standards. With Common Core 360 you can:

Learn how to integrate the Standards by watching other educators go through the implementation process
Navigate the Standards with ease
Align lesson plans to the Standards
Stay tuned for upcoming School Improvement Network contests and giveaways at http://www.schoolimprovement.com.
About School Improvement Network
Founded in 1991 by teachers, the School Improvement Network provides comprehensive, research-based professional development anytime, anywhere. As the home of The Video Journal of Education, PD 360, Observation 360, the Learning 360 Framework, Equity 360, and Common Core 360, School Improvement Network resources focus on the most relevant topics, feature the top experts, and show educators how to put theory into practice. School Improvement Network works with thousands of schools and districts in every state and around the world and has visited over 3,000 classrooms to document best practices in action. Learn more at http://www.schoolimprovement.com.
About Common Core 360
Common Core 360 gives administrators, teachers, and instructional coaches the necessary resources to turn Common Core Standards into measurable student achievement. The unique training, expert analysis, and real classroom examples of putting the Standards into practice are all designed to help you increase student achievement. Learn more at http://www.commoncore360.com.
School Improvement Network, PD 360, Common Core 360, and their respective logos are trademarks of the School Improvement Network. All other trademarks and registered trademarks are the property of their respective owners.
Press Contact:
Duane Sprague
School Improvement Network
801-758-9546
duane.sprague(at)schoolimprovement(dot)com
# # #