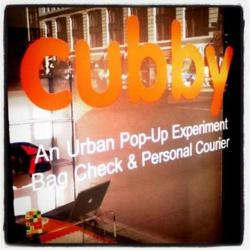 We don't know what we would have done if it wasn't for Cubby.
New York, New York (PRWEB) December 05, 2011
Due to continued support and overwhelmingly positive feedback from the media, tourists and New Yorkers, Cubby – the one-of-a-kind bag check and personal courier service – will keep the doors of its pop-up location at 303 Park Ave South open through the end of December. This is good news for holiday travelers and anyone who's going to do some serious shopping in Manhattan this holiday Season.
Cubby's prices are $7.00 for a small bag (backpack or purse sized, 22" x 11" x 9") and $12.00 for any item larger than that. Those choosing to make a reservation through Cubby's mobile application for iphone and Android will automatically receive a discount on each bag.
Cubby will continue to pick-up and/or deliver your bags for as low as $10. They have beefed up their courier network for the holiday season to cater to increased demand, and for out-of-the-way destinations, including the outer boroughs and airports, Cubby remains in partnership with a luxury car service to get their customers, and their bags, where they need to be.
Cubby has experienced rapid growth over the two months and has been meeting with interested parties wanting to make this a perminant fixture in the Big Apple. For more information about Cubby, visit their website at http://www.gocubby.com.
The pop-up store, located at 303 Park Avenue South, opened on September 16th, 2011, and is open from 8am-12am, daily.
About Cubby
Cubby is an urban personal logistics company that specializes in securing and couriering people's extra belongings. They provide luggage storage and bike courier services all connected via mobile application technology. Cubby uses this mobile technology alongside a trusted brand image to make urban travel simple, affordable and safe.
Visit the Cubby webpage – http://www.gocubby.com
Follow Cubby on Twitter - @gocubby
Follow Cubby on Facebook - facebook.com/pages/Cubby/109769855754675
Follow the Cubby Blog - gocubby.com/blog
Email Us – paul(at)gocubby(dot)com
###