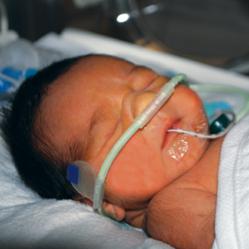 "The Neotech RAM Cannula truly has made a difference from the first moment it went on trial."
Valencia, CA (PRWEB) December 05, 2011
Neotech Products Launches Neotech RAM Cannula™
A Simple, Revolutionary Interface for Nasal Respiratory Support for Neonates
Neotech Products, Inc. (Valencia, California), today announced that the Neotech RAM Cannula™ is available for sale and trial. The Neotech RAM Nasal Cannula is a simple, revolutionary interface for nasal respiratory support, specifically designed for premature babies or critically ill babies in the neonatal intensive care unit (NICU).
The Neotech RAM Cannula has been clinically proven as a safe, effective and gentle method for delivering CPAP, PPV, IMV and continuous oxygen, as well as many other modes of respiratory support. This unique cannula has a universal 15mm adapter, soft, curved prongs, and is currently available in three sizes with more sizes for larger patients in development.
The shorter, kink-resistant tubing allows for better pressures, better flows, and less dead space. The Neotech RAM Cannula is compatible with HFOV, T-Piece resuscitators, traditional wall oxygen, most ventilators and Bubble CPAP. Also available is an optional oxygen adapter that allows for the transition from NCPAP or NIPPV to oxygen support without having to change the cannula.
To date, the cannula in clinical trial has been used for more than 3,000 patient hours. Neotech Vice-President and COO, Craig McCrary, said, "It has always been our mission at Neotech to Make a Difference for health care practitioners, patients and their families. The Neotech RAM Cannula truly has made a difference from the first moment it went on trial. The device allows nurses and respiratory therapists to deliver the therapy required for their babies in a gentle and effective manner. It's also great for parents because they can see their baby's face, and they can hold their baby much easier during Kangaroo Care."
More information on the cannula can be found at http://www.ramcannula.com or by calling Neotech Products at 800-966-0500.
Founded in 1987, Neotech Products is a leader in developing safe, gentle, effective products for neonatal products and has patients worldwide. The company specializes in skin care and respiratory products for premature babies.
For more information:
Karin Storlien
Marketing Manager
661-775-7466
karin(at)neotechproducts(dot)com
For more information on Neotech Products
http://www.neotechproducts.com
###
###