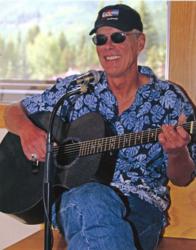 Vail, CO (PRWEB) December 02, 2011
The Alpine Tavern has announced a CD release party for Jim Carstensen on Saturday, December 10th from 6 to 8:30pm in the Old Muddy Bar in Vail,CO.
Jim came from Wisconsin in 1981 and has been a Vail bus driver for 27 years. This is the musician's sixth album and is titled "Medical Marijuana & Other Love Songs". The new C.D. features bass, electric guitar, drums, keyboard, and some nifty vocals and has a blues folk rock feel. Jim plays at The Alpine Tavern check out Sneak Peak for their music lineup.
Jim will play alongside his longtime friend, fellow musician and member of the Blue Grass Patriots for the last 31 years, Willie McDonald from Fort Collins. As well as Bob Schwartz and Mark Bews from Milwaukee, and Susan Dailey from Ft. Collins. Also on the playlist for December 10th are songs from his album "Here in Paradise".
Both CD's can be listened to or purchased on cdbaby and itunes. For cdbaby: type cdbaby explore, click onexplore, type in artist and title, click search. Jim will send you either disc for $14.00 which includes S/H(domestic). Additional CD's are $10.00 with no extra charge. Specify the title(s), include your name and address, and send check or money order to:
Jim Carstensen
P.O. Box 2484
Vail, CO 81658
Jim plays regularly at The Alpine Tavern check out Sneak Peak for their music lineup.
The Alpine Tavern and the Vail Racquet Club are East Vail's only resort and are located at 4695 Racquet Club Drive in East Vail. Just 4 miles away from Vail Village.
Jim Carstensen is available for interviews. Please contact Scott Kneeland at 970-306-2285 to set up a time that is convenient.
###