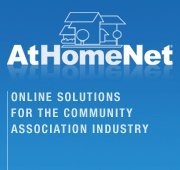 The portal will give more than 1,600 community associations the ultimate resource for legislative and operational information geared to their association needs.
Suwanee, GA and Margate, FL (PRWEB) December 14, 2011
AtHomeNet, Inc., a web services company in suburban Atlanta, has joined forces with the Community Advocacy Network (CAN), Florida's leading advocacy organization for community association residents statewide, to offer Florida residents with AtHomeNet websites a portal to connect with legislators, members of the media, and community association advocates.
"Through our partnership with CAN, our clients will have a direct link to all the advocacy information and tools that the network has to offer with a special password created specifically for each community," said AtHomeNet CEO, Susan Sanders. "The portal will be automatically added to every Florida-based community association with an AtHomeNet website, giving more than 1,600 community associations the ultimate resource for legislative and operational information geared to their association needs."
These residents will have immediate access to educational information and events on a variety of issues affecting Florida community associations, as well as an email tool allowing them to voice their opinions about legislative bills as well as local government proposals. AHN customers will be able to subscribe to CAN Alerts containing breaking news, concise bill summaries and a Legislative Bill Tracker.
"The Community Advocacy Network is proud to team with AtHomeNet to provide Florida's growing community association population with immediate online access via their AtHomeNet community websites to state legislators, public officials and news organizations via the CAN Portal and our 'Capitol Connection' email system," said CAN Executive Director Donna DiMaggio Berger. "We believe this partnership with AtHomeNet will go a long way toward informing and empowering Florida community association residents so that, through their greater participation in the democratic process, they can make a truly positive impact on the future of the communities in which they live."
About AtHomeNet, Inc.
AtHomeNet® is the nation's premier provider of customized, affordable websites for communities and Professional Association Management Firms. The company was founded in 1998 by Jeff and Susan Sanders. With their HOA websites now being used in over 2 million homes in and more than 7 countries, AtHomeNet continues to grow as a company and enhance their services in the ever expanding world of online technology. For more information on AtHomeNet web services please visit http://www.AtHomeNet.com or contact Heather McGowen at HeatherM(at)AtHomeNet(dot)com or call 1-800-556-7852.
About the Community Advocacy Network (CAN)
The Community Advocacy Network is Florida's leading voice for the interests of community associations statewide. A not-for-profit, non-partisan organization operating under the guidance of a statewide volunteer Advisory Council, CAN provides education, advocacy and outreach services to Florida communities year-round. Through its website, CAN Alerts and "Capitol Connection" email tool, CAN keeps association leaders and residents informed and enables them to play a meaningful role in legislative processes that impact their communities. For more about CAN activities and membership, visit: http://www.CANFL.com.
###