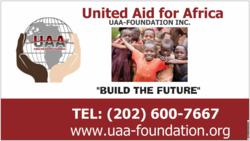 Playgrounds, the right of every child
(PRWEB) December 04, 2011
According to the United Nation, playground is the right of every child. In working-class districts across Ivory Coast, Senegal, Nigeria, Burkina Faso and Africa in general, community facilities where children can play and thrive are virtually absent. Kids are forced to play in the streets instead, disrupting drivers and risking injury.
Along with viable strategies, programs, and projects, the United Aid for Africa (UAA) Foundation is currently implementing another project "Project-Playground".The Project is intended to provide inclusive playground settings in natural environments for poor and deprived children of Africa.
The UAA's first Playgrounds are scheduled to be built in Abobo, where hundreds of children were affected by the Ivorian post-electoral conflic; also in Bouake, Koro (Ivory Coast) and at the MacDella Cooper Academic, a distinct orphanage in Liberia as well as at the MATUMAIN orphanage in Congo. http://www.matumaini.cd/
In order to raise fund for the "project-Playgrounds", the UAA is having a Benefit Gala named "NEW YEAR-NEW HOPE". This Gala will be held at the Alhambra Ballroom of New York, 2116 Adam Clayton Powell Blvd, New York, NY 10027 on Saturday, January 14, 2012 from 7 PM to 12 AM. It will consist of speeches, musical performances, auctions, and Fashion Show accompany by a Dinner .
With these considerations, UAA- Foundation is humbly presenting this Press release to invite everyone as guest supporter, sponsor or partner to this noble cause. Supports to this event will go a long way to help the children of Africa and also make one a part of a worthy cause.
As an international charitable organization, the United Aid for Africa(UAA) Foundation strives to help children across the African continent to become healthy, educated, self-sustaining, and contributing members of the society. The Foundation is a non-profit organization that has been determined under section 501 (c) (3) of the Internal Revenue Code (IRC) to be a tax-exempt organization primary based in Washington DC.
For additional information or requirements, please do not hesitate to call 202.600.7667 or send e-mail to contact(at)uaa-foundation(dot)org. It would be a delight for UAA to provide them.
Thank you very much and hoping for the best,
UAA-FOUNDATION INC.
United Aid for Africa Foundation
1626 K Street NW Suite 300,
Washington DC 20006
UAA Office:202-600-7667
Cell: 202-445-0902 (Jessica)
Cell: 347-602-0008 (Nadege)
Cell: 347-278-3234 (Grace)
Cell: 404-578-9027 (Koku)
###