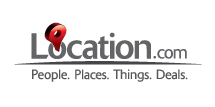 Miami, FL (PRWEB) December 06, 2011
eReal Estate Holdings, LLC, owner and operator of Condo.com, Houses.com, and Property.com - three leading online real estate portals, today announced the acquisition of the category domain name Location.com. The newest addition to the company's impressive domain portfolio is well positioned to support the growing local search market for people, events and deals online.
Richard Swerdlow, CEO of eReal Estate Holdings stated "The acquisition made perfect sense for us. We are able to leverage our location database, advertising platform, management team and other IP to expand into the broader location-based search market beyond our core focus in the real estate space...we hope to secure market share in the broad local advertising market through the use of our platform and category domain expertise," he added. The addition of the domain and development of a world-class web portal significantly expands the company's potential market size and revenue base.
Historically, query location was important for determining search results. However, the rapid growth of mobile search, which now represents over 10 percent of all web searches and growing, is the impetus for change. "The focus of search has shifted to the search user location in order to serve up the most relevant search results," said Matt Pluznick, COO of eReal Estate. Location is now easily determined when a user self-provisions his location or if location information is provided automatically via a GPS or similar technology included with most smart phones and tablets on the market today. "As the market for local and location-based search and advertising grows, we will play a leadership role with Location.com," added Pluznick.
The growing number of mobile users that use smartphones and tablets for comparison shopping and deal-seeking will also be a key factor aiding in the success of Location.com. The site's content will be on par with the fastest-growing mobile content categories today. According to a recent comScore study, mobile content tied to travel, dining, movies, classifieds, auction sites, real estate listings, online retail and search experienced the most growth year-over-year. Location.com's platform and search will offer content related to all of the above categories, satisfying the demands of today's mobile user.
The domain was acquired from Shai Neubauer, one of a growing number of domain entrepreneurs, with a portfolio of domain names. Neubauer stated "I liked what the eReal Estate team was able to do with their real estate domains and am happy to have the opportunity to remain in the deal as a partner." Financial terms of the transaction were not disclosed. The acquisition is right on the heels of eReal Estate's launch of Property.com (http://www.property.com) on November 11, 2011 and is well-timed with the momentum in the location-based search market. Location.com (http://location.com) will be launched in Q1 2012.
About eReal Estate Holdings
eReal Estate Holdings, LLC owns and operates the category-defining portals Property.com, Houses.com and Condo.com - the world's largest online marketplaces for real estate. The sites showcase over 25 million properties for sale, rent and vacation in the United States and 70+ countries around the world. The sites receive over 1.5 million+ visitors per month and cost-effectively deliver exposure and qualified leads to builders, real estate professionals and homeowners. In addition to property for sale and rent, site visitors have access to a wide variety of real estate-related products and services including mortgages, credit repair, home improvement, moving and more. The Company is privately held and headquartered in Miami, Florida. For more information, please visit Property.com (http://www.property.com), Houses.com (http://www.houses.com), Condo.com (http://www.condo.com) and Location.com (http://www.location.com).
###