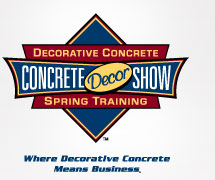 This is an exciting opportunity for The Stamp Store to reach a vast audience of concrete professionals.
Oklahoma City, OK (PRWEB) December 15, 2011
The Stamp Store, a specialty concrete supplier and training center in Oklahoma City, will be a sponsor and exhibitor, showcasing their decorative concrete products and training techniques, at the Concrete Decor Show this winter. Dates of the show run from February 20th to 24th; the event will be held at the Henry B. Gonzalez Convention Center in San Antonio, Texas.
About The Stamp Store:
This Oklahoma-based specialty store offers decorative concrete products, tools, and training for, both aspiring and skilled. Decorative concrete products offered by The Stamp Store include: color pigments, concrete hand tools, sealers, sprayers, and texturing tools. During the Concrete Decor Show, The Stamp Store specialty concrete store will be presenting a variety of techniques, which will be announced at a later date.
Additional Information about the Concrete Decor Show:
During this event, a Green Matters Conference will be held (February 23rd to 24th). The purpose of this informative conference is to brings together construction-industry leaders in order to collaborate and disperse valuable information regarding green building practices and trends in the concrete industry.
Event coordinators and presenters also hope to raise awareness of sustainable designs, which can be possible due to decorative concrete. Topics that will be covered are: infrared reflective coatings for heat mitigation, advancements in functional resilience, innovative utilization of cement to provide cooling and stormwater management, and the eco-responsible benefits of polished concrete.
Prices to attend this event range from $35 for general admission to $300 to participate in hands-on decorative concrete workshops. There are discounts for early registration. For more information, view http://www.concretedecorshow.com.
Media Contact:
Rebecca Donaldson
rebecca(at)getideas(dot)com
http://www.getideas.com
###