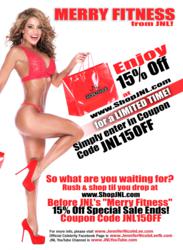 Jennifer Nicole Lee's "Merry Fitness" Special Holiday Sale Kicks Off Today, For a Limited Time Receive 15% Off Entire Orders at www.JNLClothing.com & www.ShopJNL.com
Miami, Fl (PRWEB) December 05, 2011
Jennifer Nicole Lee's management team have confirmed a huge 15% off seasonal sale in honor of the hectic holiday season. The sale is called "Merry Fitness" with the active coupon code being JNL15OFF. The active websites that are honoring this special coupon code are http://www.JNLBooks.com where JNL's bestselling books "The Fitness Model Diet Book" and "The Mind Body and Soul Diet Book" are for sale.
The other active websites offering this 15% discount for a limited time is http://www.JNLClothing.com . This online retail store hosts JNL's most famous apparel including "Strong is the New Skinny" tank tops, "Glutes That Salute" boy shorts, "Kiss My Abs" tank tops, and also her signature "Big Fun" tops and tees.
Other merchandise that is also included in the "Merry Fitness Sale" are her Limited Edition 2012 Body Paint Calendar, Collector's Item Bobble head, and also her Fun Fit Foodie insulated lunch totes. Her sales team also confirms her bestselling 8x10 photos are included in this special one time a year annual sale.
The discount is honored at the time confirming the sale by entering in the special promotional coupon code JNL15OFF.
Jennifer Nicole Lee has a mission statement she is standing by, which is "to increase the quality of everyone's lifestyle."
###