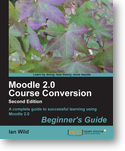 (PRWEB) December 05, 2011
Packt is pleased to announce its latest addition to its series of Moodle books, Moodle 2.0 Course Conversion, the book that provides the quickest way for teachers and trainers to turn their familiar teaching materials into a Moodle e-learning course. Written by Ian Wild, the book demonstrates ways to improve one's course by taking advantage of multimedia and collaboration.
Moodle is a free web application that educators can use to create effective online learning sites. It is designed to help educators create online courses with a focus on interaction and collaborative construction of content. Its open source license and modular design allows any developer to create additional modules and features.
Moodle 2.0 Course Conversion Beginner's Guide starts off by showing users how to turn their teaching schedule into a Moodle course, with the correct number of topics and weeks. They will then learn to convert their resources – documents, slideshows, and worksheets, into Moodle. Fast ways to add multimedia to one's course, incorporating existing sounds and videos and topics like using Moodle as a repository for departmental guidelines and documentation are also covered.
Readers will understand how to use Moodle to accept and assess coursework submissions, discuss work with students, and deliver quizzes, tests, and video. Educators will also be able to use forums and messaging to keep in contact with students when it's convenient, rather than having them call into their office during their breaks or preparation time.
With clear instructions and plenty of screenshots, this book is ideal for teachers, tutors, and lecturers who already have a large body of teaching material and want to use Moodle to enhance their course, rather than developing brand new ones. No previous experience with Moodle is necessary but teacher-access to a ready-installed Moodle site would be required. Teachers with some experience of Moodle, who want to focus on incorporating existing course materials, will also find this book very useful. This book is out now and available from Packt. For more information about the book, please visit: http://link.packtpub.com/TZet6y
###