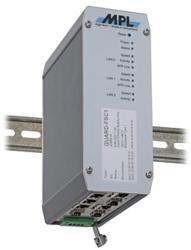 Rugged Industrial Firewall with Gbit Switch
Dättwil Switzerland (PRWEB) December 07, 2011
With the new GUARD-FS, MPL has integrated several systems into one housing, a Firewall, a VPN-Gateway, a Router, and an Ethernet Switch with your choice of copper and/or fiber ports. You can imagine the broad use of the GUARD-FS with this variety of functionality. Basically for any application that needs to be installed in a rugged rough environment where space is an issue, the GUARD-FS is a perfect fit.
Today, everything is getting automated. Therefore security in this automated world is becoming more and more important. The key differences of industrial applications are that they require a long-term availability due to the life cycle management of the investments.
The GUARD-FS can be operated from -20°C to +60°C (optional -40°C to +85°C), without the need of a fan or case openings. The versatility is supported by the availability of a software development kit. Customized versions like IP67 housing, MIL connectors, wall/flange/19" rack mount will be offered as well.
The GUARD-FS comes pre-installed with an adapted version of OpenWRT. This Linux based embedded distribution provides all functionality required for operation as IPV4 and/or IPV6 firewall and router.
Some of the unique features are:

Wide input voltage range (8V – 36VDC)
Low power consumption (fanless operation)
Optional -40°C up to +85°C
All connectors on one side
Customized versions (IP67, MIL, wall/flange/rack mount, etc.)
Firewall/Router with 2x Gigabit Ethernet ports (copper or SFP)
4-port Gigabit switch (copper and/or fiber)
Switch available as managed or unmanaged version
The GUARD-FS is developed and produced in Switzerland based on more then 25 years company tradition and a huge know-how in lowest power consumption and extended temperature operation.
###