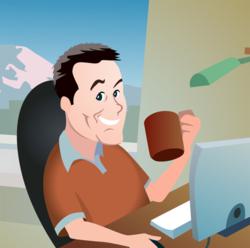 We take pride in our partnerships with employers and other organizations in the community, and are able to give back with free events like the ISD Now Webinar Series - Dr. Greg Williams, ISD Program Director
Baltimore, MD (PRWEB) December 07, 2011
UMBC's ISD Now Webinar Series invites you to join in their next free webinar on Tuesday, December 13, 2011 from 2 to 3 p.m. EST.
Guest speaker, Tom Kuhlmann, VP of Articulate's Community and the author of the well-known blog Rapid eLearning, will discuss Simplifying Interactive Learning.
E-learning's all the rage. And for good reason. For the organization it's cost effective and very flexible. On top of that, the tools are getting easier to use. Building E-Learning courses has never been easier. The challenge is how to get past the linear, 'click and read' courses and move towards something more interactive.
Join us and learn to:

Become more interactive
Apply basic design ideas to your e-learning courses
Review interactive elements and determine when to use them
Create more dynamic and effective 'click and read' content
This webinar is free and open to the public. If interested in attending, please RSVP online at http://www.isdnow.umbc.edu.
###