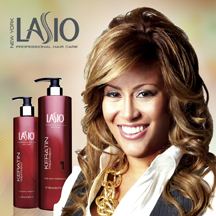 I am sharing my story in hopes to inspire, educate, and promote success
New York City, NY (PRWEB) December 07, 2011
Founder and CEO of Lasio Inc., a professional hair care company, and the pioneer of keratin treatments, Nadine Ramos headlines the Million Dollar Keratin: Capitalizing on Keratin Services tour. The tour, set to begin in January 2012, will teach salon professionals how to fully capitalize on all aspects of the keratin business.
Million Dollar Keratin: Capitalizing on Keratin Services encompasses a seminar led by Nadine Ramos as she shares her story, tips, and techniques on how she made over $1,000,000 in her first year performing keratin treatments, opened her salon, and established her distribution company Lasio Inc. In addition, attendees will receive two hands-on workshops: a new keratin application technique that reduces the production of fumes and how to perform a money-making, customer retaining consultation.
At $50 per ticket, attendees can also become Lasio Certified. "I am excited to get out there to meet and hopefully influence as many salon professionals as I can," comments Nadine Ramos. "I am sharing my story in hopes to inspire, educate, and promote success among fellow industry professionals."
The tour dates and cities are as follows:

1/9/2012 – New York City, NY
1/29/2012 – Houston, TX
2/5/2012 – Los Angeles, CA
ABOUT LASIO, INC.
Lasio, Inc. has been at the forefront of the keratin revolution since 2000. Providing salon and client friendly products, Lasio Inc houses a professional hair care line with keratin at it's core, a flagship salon in East Village, NY Lasio Studios, and Rio De Keratin a youth friendly do-it-yourself keratin treatment. Lasio, Inc.'s products have been featured in the New York Times, The Wall Street Journal, Teen Vogue, and The Today Show.
ABOUT NADINE RAMOS
Nadine Ramos is the owner, founder and CEO of Lasio, Inc. She founded Lasio, Inc. as a response to the oversaturation of unsafe chemical relaxers in the hair care industry. Lasio, Inc.'s products received many accolades which encouraged her to open the company's flagship salon, Lasio Studios, in the East Village. Nadine Ramos now controls the futures of Lasio, Inc., Lasio Studios and Rio de Keratin in addition to managing the global distribution.
###