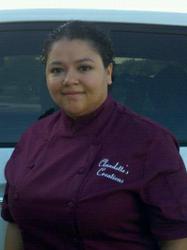 Congratulations to Claudette Thurmond, Winner of the ChefUniforms.com "Cash for the Holidays" Contest!
(PRWEB) December 07, 2011
ChefUniforms.com recently announced the winner of its Cash for the Holidays Contest. Claudette Thurmond won a check for $500 from ChefUniforms.com, just in time for some holiday shopping.
To enter, contestants had to submit a photo of themselves at work as well as a short explanation on why they thought they deserved to win the money. Entries were accepted from October 3rd to October 24th. At the end of the entry period, ChefUniforms.com put up a voting page for each contestant to get others to visit their personal voting page and vote for them to win. Any participants (excluding the grand prize winner) who received over 1,000 votes over the course of the voting period won a $50 Gift Card, redeemable at ChefUniforms.com. On November 28th at 11:59 P.M. Eastern Standard Time, the virtual voting booths closed and the final votes were tallied.
For more information about the contest and for complete rules and regulations, please visit http://www.chefuniforms.com/contest.
About ChefUniforms.com
ChefUniforms.com is a leading retailer of restaurant and chef uniforms. Founded in 2007, the company operates out of Plantation, Florida and ships from their distribution center near Atlanta, Georgia.
For more information and to view their garments, visit the Chef Uniforms web site at http://www.ChefUniforms.com or call 877-482-2433.
###