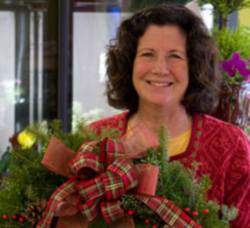 "Our Wreath Base is as Beautiful as Our Decorations
And each Bow is Professionally Hand-Made.
Wreaths are made fresh to the order and shipped free across the Continental USA
Sending NH Christmas Cheer throughout the Country!" ~Linda
Wolfeboro, New Hampshire (PRWEB) December 06, 2011
Evergreen Wreaths, located in the Lakes Region in Wolfeboro, New Hampshire, is now offering fresh Christmas wreaths inspired by favorite places around the state of New Hampshire. "On Golden Pond" Christmas Wreath, name after the classic 1981 movie filmed on Squam Lake in Ashland New Hampshire staring Henry Fonda & Katharine Hepburn; "The Mount Washington" Wreath's namesake is the highest mountain in the northeast and "The Kancamagus" Christmas Wreath name after the Kancamagus Highway, a 34.5 mile scenic drive in Northern New Hampshire, one of the best fall foliage viewing areas in the country to name a few.
Each Evergreen Wreath is made fresh per order by Katie Leipold. NH Certified Landscape Professional, of NH Balsam, White Pine, Grey Owl Juniper, Golden Thread Leaf Cypress, Russian Cypress and Andromeda. Linda Siracusa, Professional Floral Designer of Linda's Flowers and Plants, decorates each wreath with bountiful handmade bows and selected adornments. Together they create a beautiful double-sided NH Christmas Wreath that can be shipped to NH loving customers across the USA.
In addition to Christmas wreaths, Evergreen Wreaths offers the "Red Cardinal Boxwood Christmas Tree," the perfect size for a centerpiece, side table or window, and the "Amaryllis Christmas Bulb" which includes a decorative pot and soil which will be enjoyed for weeks as it grows and blooms.
To view a complete list of the Christmas wreaths available visit Evergreen Wreaths website at http://www.evergreenwreaths.net.
About Evergreen Wreaths:
Evergreen Wreaths was created with the mission to send fresh NH Christmas wreaths to NH loving customers to enjoy wherever they are across the USA. Each wreath is made fresh per order to ensure the freshest wreath possible and last throughout the season.
###