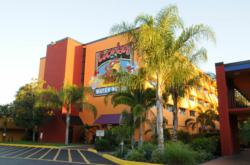 Orlando, Florida (PRWEB) December 05, 2011
What's better than your team's victory in its Bowl game? A victory and saving on room rates at Central Florida's newest family resort – the CoCo Key Hotel and Water Resort-Orlando.
CoCo Key officially opened in April 2010 and offers a fun and affordable option for families eager to experience Orlando's major attractions without breaking the bank. Rates start as low as $109.00 for the Champs Sports Bowl and $69.00 for the Capital One Bowl. Fans making the trip will enjoy a 15-percent discount by using the corporate code "BOWL" at http://www.cocokeyorlando.com. The Champs Sports Bowl, held on December 29, 2011, will feature the Florida State Seminoles and the Notre Dame Fighting Irish. The Capital One Bowl, held on January 2, 2012, will feature the Nebraska Cornhuskers and the South Carolina Gamecocks.
The 391-room hotel and water resort captures the relaxation and enchantment of the tropics. Brightly colored cabanas, swaying palms, fragrant hibiscus, native artwork and thatched roofs welcome guests to the region's newest and most unique water resort.
The adventure-filled, 54,000-square-foot canopy-covered and outdoor water park features heated pools; 14 water slides, including three daring adventure slides; a zero-entry pool area offering water fun for youngsters; a teen pool; an interactive Play Island; and a 6,500-square-foot, state-of-the-art arcade. An optional $19 resort fee includes water park admission for up to four people per room. CoCo Key recently added mini-refrigerators and digital safes to all 391 guestrooms. Additional amenities include Wi-Fi, 37" flat screen television, hairdryer, coffee/tea maker, and ironing board/iron.
Located in the heart of the vacation corridor at 7400 International Drive, CoCo Key is just nine miles from the Citrus Bowl Stadium (site of the Dec. 29 Champs Bowl and Jan. 2 Capital One Bowl) and a perfect hub for quick access to Orlando's other popular attractions – a five minute-drive from Universal; five minutes from Sea World/Aquatica; and 10 minutes from the Walt Disney World theme parks.
CoCo Key is an official Universal and Sea World Partner Hotel offering free transportation to the Universal theme parks, Sea World, Aquatica and Wet n' Wild. For more information or to book your reservation visit http://www.cocokeyorlando.com or call 407/351-2626.
###