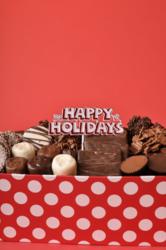 We ship anywhere in the U.S.
River Vale, NJ (PRWEB) December 07, 2011
Mindy's Munchies offers overstuffed baskets, platters and boxes, filled with chocolate covered pretzels, graham crackers, marshmallows, peanut butter cups, Oreos®, Rice Krispie® bites, toffee clusters, Ritz® peanut butter sandwiches, Vienna Fingers® and Mindy's Marshmallow Mountains. Holiday baskets range from elegant wicker to festive patterns, and platters and boxes are holiday-themed. Baskets, boxes, platters and more can be customized for Chanukah, Christmas and Season's Greetings.
Mindy's Munchies also offers ways for customers to make their gifts more special. For a more personalized gift, customers can supply their own gift platters that Mindy will arrange with chocolate munchies that fit any client's taste. Corporate customers can supply their company logo and/or holiday message which can be printed onto labels, making a unique presentation.
"Our dedicated team works tirelessly all season long to offer excellent quality products and outstanding customer service which makes holiday gift giving a pleasant experience," promises Mindy.
To place an order, customers can visit the flagship store in River Vale, go online to http://www.mindysmunchies.com or find Mindy's Munchies at these retail locations: Chef's Central, Paramus, NJ and Hartsdale, NY; ChezCheeze, Tenafly, NJ; Stein's Deli, Montvale, NJ; or Bruno's Gourmet Market, New York, NY.
Mindy's Munchies is located at 215 Rivervale Road, River Vale NJ 07675. In addition to chocolate covered treats, strawberries, nuts, fudge, chocolate platters and assorted gift baskets, the store sells coffee, fresh cupcakes, yogurt, and signature apparel. For more information contact Mindy Mosca, 201 664 1650. http://www.mindysmunchies.com
###