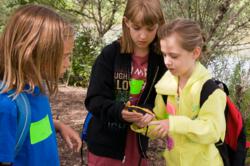 "Camp CBG was attractive because they are educational, include lots of time outdoors and have great staff and teachers who are really knowledgeable," said Amy Guest of Northbrook.
Glencoe, IL (PRWEB) December 07, 2011
Camp CBG, the Chicago Botanic Garden's signature weeklong day camp, provides exciting, fun and enriching outdoor learning experiences. New this year, Camp CBG now offers two-weeklong full-day camps for children ages six through nine that take place from 9:30 a.m. to 3 p.m. The Garden has combined four of the most popular half-day camps into an educational and fun-filled experience that gives children the opportunity to explore science and nature in more depth. Registration for the 2012 camp season is open now. Parents who register their children by February 29, 2012 receive a $5 per camp "Early Bloomer" discount.
Budding detectives will enjoy Forensic Investigators as they learn investigative techniques used by professional CSI teams to get to the bottom of this summer's hot case. Aspiring physicists discover cool science tricks and perform physical science experiments using toys during Kinetic Kids. Young artists enrolled in Art in the Garden, Nature Art, Adventurers Art or Alfresco Art will enjoy special appearances by Ravinia Teaching Artists. Dirty Jobs campers get to see what it's like to work at the Garden, prepping worm compost bins, planting garden beds and studying seeds to find out just how dirty "real" garden jobs can be.
Camp CBG brings science to life with an interdisciplinary approach that emphasizes its ties to literacy, reading, math, social studies, culture and art for children ages 2 through 15. Morning, afternoon, and all-day options are available from Monday, June 18 through Friday, August 17. Learning experiences are grounded in the real world setting provided by the Chicago Botanic Garden's 385 acres of diverse landscapes, gardens and native habitats. Experienced, professional teachers lead camp sessions with hands-on science, gardening, art, nature and outdoor explorations each day.
Some camps offered this summer include:

My First Camp 2 & 3: Accompanied by an adult, two- and three-year-olds discover how to garden using child-sized tools in My First Garden, explore nature-inspired Art & Music, or become Small Scientists, performing basic investigations.
Green Sprouts: Four- and five-year-olds explore ladybugs, butterflies and bees in Bug Brigade; plant, dig, water, and weed in Super Seedlings; or become artists by using dyes from nature in Nature Art.
Green Thumbs: Six- and seven-year-olds can dig deeper into the scientific processes used in experiments in the new two-weeklong camp program, Fun With Science; explore the Garden's beauty and bounty during Art & Plants; or experience a little bit of everything during Mix It Up, which combines the best of science, foods, and art activities. Half-day camp favorites include Expert Wizardry, where children create strange potions while learning basic chemistry; explore slimy and smelly natural phenomena during Grossology; or grow and harvest vegetables in Incredible Edibles.
Explorers: Eight- and nine-year-olds can now enroll in weeklong half-day, full-day or two-week full-day camps. In the new Science Explorer camp, children investigate plant, animal and human adaptations; campers explore the many gardens, while discovering new places and facts about plants in Explore CBG. Surviving Outdoors is a popular half-day camp where children discover the secrets pioneers used to find water, make a collection of safe and useful plants, create a shelter, and learn how to predict weather and storms.
Adventurers: Campers ages 10-12 will have opportunities all eight weeks of camp to explore the basics of Chemistry and chemical reactions; discover what ecologists do as they explore the Garden's native Illinois habitats and conduct studies in our prairie, wetland, and woodland habitats in Ecology; campers will learn the principals of Cuisine, basic chopping skills, food presentation and creating healthy meals.
Leaders in Training: This program gives young adults ages 13-15 the opportunity to be mentored by certified teachers. The leaders in training help Camp CBG instructors with running the day-to-day operations of camp classes to ensure a high quality experience for all children. An application and interview are required.
Yoga Bash: Camp CBG has partnered with Yoga Bash and offers camps for children to discover a great way to stretch their bodies and minds. Classes include, Grow the Pose with Yoga and Learning the Lotus.
Discover Dance: With the instruction from the professional dancers and teaching artists of Hubbard Street Dance Chicago, campers will be introduced to the exciting world of contemporary dance. This workshop runs from July 30 – August 3 and is appropriate for aspiring dancers of all abilities, ages 5-10.
An orientation open house will be held in The Learning Center on Wednesday, June 13, 2012 from 10 a.m. to 12 p.m. or 5 to 7 p.m. for parents and campers who wish to attend. This is an opportunity to review pick-up and drop-off procedures, meet camp instructors, pick up daily activities for each camp, and purchase t-shirts.
For a complete listing of available camps, more information, fees and registration go to http://www.chicagobotanic.org/camp/summercamp.
Interact with the Garden for this and other Garden events and programs:

Editors, please note: The Chicago Botanic Garden's newsroom is online at http://www.chicagobotanic.org/pr. For digital images, contact Melissa Schuler at (847) 835-6829 or at mschuler(at)chicagobotanic(dot)org.
The Chicago Botanic Garden, one of the treasures of the Forest Preserve District of Cook County, is a 385-acre living plant museum featuring 24 distinct display gardens and four natural areas. With events, programs and activities for all ages, the Garden is open every day of the year. Admission is free; select event fees apply. Parking is $20 per car; free for Garden members. Located at 1000 Lake Cook Road in Glencoe, Ill., the Garden is smoke free. Visit http://www.chicagobotanic.org, or call (847) 835-5440 for seasonal hours, images of the Garden and commuter transportation information.
The Chicago Botanic Garden is managed by the Chicago Horticultural Society. It opened to the public in 1972 and is home to the Joseph Regenstein, Jr. School of the Chicago Botanic Garden, offering a broad array of adult classes in plant science, landscape design and gardening arts. Through the Division of Plant Science and Conservation, Garden scientists work on plant conservation, research and environmental initiatives that have global impact. The Center for Teaching and Learning brings the wonder of nature and plants to children, teens and teachers. The Garden's Horticultural Therapy and Community Gardening programs provide nationally recognized community outreach and service programs. A program of the Chicago Botanic Garden, Windy City Harvest is an organic vegetable and plant production enterprise that provides instruction in sustainable horticulture and urban agriculture to residents of Chicago's North Lawndale and West Side neighborhoods.
The Chicago Botanic Garden is accredited by the American Association of Museums and is a member of the American Public Gardens Association (APGA). The Chicago Botanic Garden is also host to Botanic Gardens Conservation International-U.S., and a member of the Center for Plant Conservation. In 2006, the Chicago Botanic Garden received the Award for Garden Excellence, given yearly by the APGA and Horticulture magazine to a public garden that exemplifies the highest standards of horticultural practices and has shown a commitment to supporting and demonstrating best gardening practices.
###