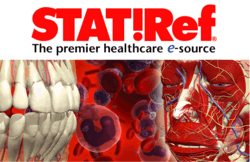 Jackson, Wyoming (PRWEB) December 06, 2011
STAT!Ref is the ONLY healthcare database that can now cross-search Anatomy.tv with their entire collection of resources. STAT!Ref users can easily retrieve 3D images of all structures, relevant text, dissections, clinical slides, diagrams, video clips and MRI scans from the Anatomy.tv software - reaching over 475,000 individual files. STAT!Ref fully integrates search results with all titles, journals, and dictionaries in the program to ensure that users have the results they need.
Anatomy.tv is the most complete and accurate 3D model of the human anatomy. It is derived from actual cadaver scan data that has been interpreted by a team of Primal Picture's Anatomists and then translated into three-dimensional images by an expert team of graphics specialists. The anatomy visuals are accompanied by three-dimensional animations that demonstrate function, biomechanics and surgical procedures. To further supplement the core three-dimensional anatomy data, clinical videos and text written by some of the world's leading medical specialists are included. Anatomy.tv is used by educators, students, and many health care professionals and providers.
"Anatomy.tv on STAT!Ref has been well received by many of our medical professionals and educators. We know our customers will love the ability to cross-search hundreds of thousands of images, animations, and movies within our STAT!Ref platform," explains Chris Olsen, STAT!Ref's Director of Marketing, "Providing the best, most intuitive resources has always been the primary goal at STAT!Ref. Partnering with Primal Pictures to integrate Anatomy.tv into the STAT!Ref platform provides users access to a vast amount of information that is continuously evolving."
In conjunction with the enhanced search features, STAT!Ref is offering a 2011/2012 ANATOMY.TV PRICE GUARANTEE PROGRAM. If your organization is interested in a STAT!Ref subscription with Anatomy.tv OR if you already subscribe to Anatomy.tv through STAT!Ref and would like to commit to a THREE, FOUR or FIVE YEAR purchase locked in at 2011 price levels, contact them immediately. Once locked in, Anatomy.tv pricing will not increase and all online software updates are included in this offer!
For more information, please visit http://www.statref.com, e-mail us at info@statref.com, or call 800-901-5494 to speak to your area representative.
# # #