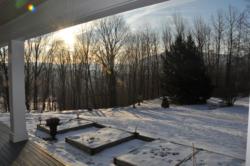 Lebanon, PA (PRWEB) December 07, 2011
January is full on winter in most parts of the country, but that doesn't mean it's not time to take the garden into consideration. Here are some notes from the "Garden and Landscape Tips" section of http://www.preen.com that can help ward off winter cabin fever.

If you can't garden outdoors, garden indoors. Repot houseplants as they outgrow current pots. If you see roots when you look at the drainage hole in the bottom of the pot, chances are it's time for a larger pot.
Plan your garden. With a sketch book, a paper catalogue and scissors or an online garden planner, decide what your garden will look like this year, including what to grow, spacing, arrangement and how many new plants you plan to indulge in.
In January, paper catalogues begin to arrive and online sites are stocked with spring offerings. Order seeds and plants from mail order sources as early as possible for best selection. They won't be delivered till it's time to plant in your area.
Plan on a weed-free garden this year. Visit the Garden and Landscape Tips of preen.com, http://www.preen.com/gardentips/. Scroll down to the Featured Videos section and view how-to videos on using Preen weed preventers to enjoy a weed-free garden this year. If you start in early spring, you'll enjoy maximum weed-prevention.
Use your hand or a broom to gently brush away any wet, heavy snow that may accumulate on shrubs before it freezes there. Heavy snow can weigh down branches, causing them to break or become misshapen.
If your area experiences a winter warm spell and you see the bulbs start to sprout, don't worry about it. When temperatures turn cold again the growth will slow down and your unharmed bulbs will wait for spring.
For more information on gardening and landscaping visit http://www.preen.com. Preen is the leading brand of garden weed preventers. Preen products don't kill weeds; they are weed preventers. They stop new weeds from happening.
###