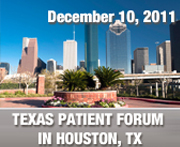 Many people don't realize how prevalent bladder cancer is, and as a result, patients that suffer from bladder cancer often feel isolated.
Houston, TX (PRWEB) December 05, 2011
In 2011, more than 3,500 men and women in Texas will be diagnosed with bladder cancer. For too many of these patients, their diagnosis will be the first time they ever hear of bladder cancer, and they may never meet another bladder cancer patient. The Bladder Cancer Advocacy Network—BCAN--is working to change that by hosting a forum for bladder cancer patients and their loved ones in Houston on Saturday, December 10.
"Bladder cancer can be hard to talk about," said Diane Zipursky Quale, President and co-Founder of BCAN. "Many people don't realize how prevalent bladder cancer is, and as a result, patients that suffer from bladder cancer often feel isolated. Our goal in hosting the forum in Houston is to bring these patients together and give them the best information we can."
Dr. Seth Lerner, Chair of Urologic Oncology at the Baylor College of Medicine, and Dr. Ashish Kamat, Associate Professor, Attending Surgeon and Fellowship Director of Urologic Oncology at MD Anderson Cancer Center will lead a panel of local bladder cancer specialists to provide a complete overview of the disease, treatment, and recent advances.
"There is a tremendous need to raise the awareness of bladder cancer. When I was diagnosed in 2010, I had no idea that bladder cancer is one of the most common cancers affecting about 70,000 people in the US every year," said Maria Floyd, wife of PGA Hall of Fame golfer Raymond Floyd. "Luckily, I had great doctors at the MD Anderson Cancer Center, headed by Dr. Kamat, and a great resource in the Bladder Cancer Advocacy Network, all of whom helped me navigate the waters. Raymond and I are so pleased that this forum will bring such valuable information to an even larger audience."
Smokers are at higher risk of developing bladder cancer, and the chance of getting bladder cancer increases as people age. Because bladder cancer has a high recurrence rate, patients require lifelong surveillance, making it one of the most expensive cancers to treat over a patient's lifetime. The most frequent symptom of the disease is blood in the urine – a sign that one should see one's doctor immediately.
The Bladder Cancer Advocacy Network is the first national advocacy organization dedicated to improving public awareness of bladder cancer, advancing bladder cancer research and providing information and support to people affected by bladder cancer. Founded in May 2005, BCAN is a cooperative effort among bladder cancer survivors, their loved ones and the medical community.
To register to attend this patient forum, or for more information about bladder cancer, please visit http://www.bcan.org or call 888-901-BCAN. Preregistration is required because space is limited and lunch is provided. Registration is $15 per person.
# # #