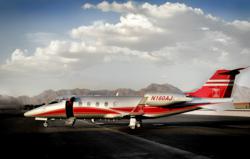 We are pleased to partner with Congressman Bishop and provide Kelly's medical flight so that she has access to the specialized care she needs.
(PRWEB) December 06, 2011
After being struck by a car in the Virgin Islands, a severely injured Long Island woman is back in New York, thanks to the efforts of her mother, Congressman Tim Bishop and Angel MedFlight.
Kelly Breem suffered a traumatic brain injury Nov. 14 when she was hit by a car while crossing a street on the island of St. Thomas, USVI. She fell into a coma and remained partially paralyzed at a St. Thomas hospital since then. When Breem's mother, Althea Richardson, learned that the hospital did not have the faculties available to treat her daughter's brain stem injury, she made a plea to her local congressman, Tim Bishop, for help.
Congressman Bishop directed his office to work on Ms. Breem's behalf after learning that she could only receive the medical care she needs in the mainland U.S., and the cost of a medical evacuation flight was prohibitive for the family. He contacted leading international air medical transport provider Angel MedFlight for the flight.
"Kelly and her family needed our help in this tragic situation, and I thank Angel MedFlight for being true to their name and immediately offering their life-saving services free of charge," says Congressman Bishop.
When Rep. Bishop's staff informed Angel MedFlight CEO Jeremy Freer of the severity of Ms. Breem's condition, Freer offered to perform the air ambulance flight at no charge.
"No two brain injuries are alike and studies have shown that patients who receive treatment at brain injury rehabilitation facilities make more progress in their recoveries," says Freer. "We are pleased to partner with Congressman Bishop and provide Kelly's medical flight so that she has access to the specialized care she needs in New York."
Angel MedFlight medically transports patients to health care facilities around the world. Many of those flights have transported brain-injured patients to specialty rehabilitation centers where they receive comprehensive treatment.
Ms. Breem was greeted by family members at Long Island MacArthur Airport following a 1,600-mile flight aboard a medically-dedicated Learjet 60. She was immediately transported by ambulance to Stony Brook University Medical Center where she is receiving treatment.
About Angel MedFlight Worldwide Air Ambulance Services
Angel MedFlight, founded in 2007 by Jeremy Freer, is based in Scottsdale, Ariz. The company coordinates domestic and international air medical transportation services, commercial medical escorts, ground ambulance services and provides discretionary insurance benefit assistance. Angel MedFlight's One Touch Promise™ assures that every detail is handled and all resources are committed to guide the process from start to finish with a compassionate team of experts in the fields of medicine, aviation, insurance law and case management.
###