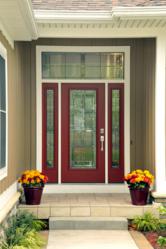 Therma-Tru will remain competitive next year due to the quality of our products, our competitive price points and by leading in innovation.
- Dave Randich
President
Therma-Tru
Maumee, OH (PRWEB) December 06, 2011
Following another year of challenging economic conditions for the housing industry, Therma-Tru, the nation's leading manufacturer and most preferred brand of fiberglass and steel exterior door systems, is positioned to meet marketplace demand in 2012. The company plans to continue its ongoing consumer-driven innovation efforts and introduce new products in 2012.
"In 2011 we saw the growth of several trends that we plan to focus on in 2012," says Dave Randich, president of Therma-Tru Corp. "First, there was the growth towards more contemporary and Craftsman style door glass packages featuring simplistic styles during this past year. We believe this trend of 'less busy' and more simplistic glass designs will continue to accelerate in 2012. To meet consumer demand, we plan to offer more Craftsman style products and simplistic glass packages.
"Next, we'll focus on other trends we're seeing in the marketplace, such as the desire by homeowners for entryway systems in richer colors and darker stains, along with the increased desire for privacy glass offerings. Overall, we believe builders and consumers will become more interested in glass within entry door systems in 2012 as they continue to differentiate their entryways and add to the curb appeal of their homes."
2011 Successes
According to Randich, one of the most popular selling products in 2011 for Therma-Tru was the company's Smooth-Star® fiberglass product line. "The affordable nature of this fiberglass door, coupled with its look of fine painted wood and the strength of steel, all lend themselves to making this a desirable entry door selection," says Randich. "Married with low-maintenance Fypon® trim pieces and homeowners are embracing the look a new entryway system can give their home."
The 2011 launch of the Stone and Timber Collection™ by Fypon was also met with success this year. "2012 will see us expanding the depth and breadth of Fypon's Stone and Timber selections to meet the design requests of architects, builders, remodelers and homeowners," says Randich. "These pieces have nationwide appeal. The urethane products so authentically replicate precast concrete and timber woodgrain products that it's difficult to determine that they're an alternative synthetic product."
50th Anniversary Year
As Therma-Tru enters its 50th anniversary year in 2012, Randich believes its industry positioning is secure. "We are known throughout the trade industry as the company that takes responsibility for the entire entryway system, not just the parts and pieces," says Randich. "Therma-Tru engineers its doors to work together for ease of installation, unified aesthetic appeal and long-term durability.
"Our 50th anniversary year comes during a continued challenging economic marketplace. Therma-Tru will remain competitive next year due to the quality of our products, our competitive price points and by leading in innovation. We provide one-stop-shop aspects for trend designs in entryway systems while offering outstanding support to builders and remodelers. This results in a winning combination for everyone."
About Therma-Tru
Therma-Tru is the nation's leading manufacturer and most preferred brand of fiberglass and steel exterior door systems. Founded in 1962, Therma-Tru pioneered the fiberglass entry door industry, and today offers a complete portfolio of entry and patio door system solutions, including decorative glass doorlites, sidelites and transoms, and door components. The company also offers low-maintenance Fypon® urethane and PVC products. Headquartered in Maumee, Ohio, Therma-Tru is part of Fortune Brands Home & Security (NYSE: FBHS). For more information, visit http://www.thermatru.com, http://www.fypon.com or call (800) 537-8827.
Images at: http://thermatru.com/news-events/media-resources/entry-door-images/
###