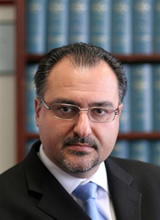 We serve clients from a wide range of industries, with a focus on construction workers. We hope those who come to our website will use it as a resource to understand how we can help them win reimbursement. Our lawyers are on your side.
Dallas, TX (PRWEB) December 07, 2011
The Dallas, Texas legal practice of Modjarrad & Abusaad Law Firm recently launched a new website focusing on workers compensation claims and construction accident lawsuits, providing a valuable online legal resource to current and potential clients.
The site offers useful information to explain the complex aspects of workers compensation law in Texas, helping clients better understand their next steps in the legal process based on whether their employers subscribe to workers compensation insurance.
Visitors to the firm's website learn how the experienced attorneys of Modjarrad & Abusaad Law Firm can help them file a workers compensation claim or lawsuit. The firm has a reputation for successfully pursuing compensation claims for clients in Dallas and the surrounding area. The firm's attorneys strive to help clients recover compensation for their pain and suffering, medical bills, time away from work, and other losses.
About the Firm
The attorneys of Modjarrad & Abusaad Law Firm counsel clients in matters concerning workers compensation and construction accidents. The firm has helped countless injured individuals recover from their losses since its establishment in 2000. With a team of 16 attorneys, they have the resources and knowledge needed to vigorously advocate for clients' rights.
Located in Richardson, Modjarrad & Abusaad Law Firm serves clients in Dallas, Richardson, Fort Worth and beyond. Their new website provides a wealth of detail concerning each of their practice areas, and shares biographical information about each of their lawyers.
The lawyers at Modjarrad & Abusaad Law Firm have extensive experience in the legal arena. For more information about the firm, please go to their website or call (972) 591-2401.
###