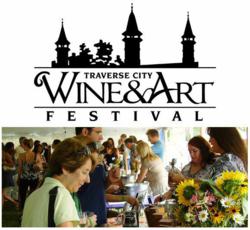 "It's been like an explosion the last couple of years. They've been winning medals left and right, competing across the U.S. and internationally. Beautiful wines are coming out of Michigan." ~ Yolanda Daily director of the Pacific Rim Wine Competition
Traverse City, MI (PRWEB) December 09, 2011
Make reservations for next summer's Traverse City Wine & Art Festival, an annual celebration of wine and culture that will take place Saturday, June 30, 2012 at the historic Grand Traverse Commons in the culinary paradise of Traverse City, Michigan.
Recently in Bon Appetit, superstar chef Mario Batali touted Traverse City and the Leelanau Peninsula, saying "The food scene has really exploded in the region. It's very cool. The chefs involved in the scene celebrate what's here; they're not trying to be anything they're not. Now people are coming for gastronomic tourism."
Batali is not alone in his praise of this incredible Great Lakes destination. Yolanda Daly, director of the Pacific Rim Wine Competition recently said, "It's been like an explosion the last couple of years. They've been winning medals left and right, competing across the U.S. and internationally. Beautiful wines are coming out of Michigan."
Livabilty.com has ranked Traverse City their #1 Foodie City in America, the James Beard Foundation tapped three chefs from the area as semi-finalists for their Best Chef: Great Lakes award, and USA Today, Wine Enthusiast and Trip Advisor have all tagged the area as one of the hottest wine regions in the country.
All this is no surprise to winemaker Spencer Stegenga of Bowers Harbor Vineyard, who says "The cool-climate wines from the wineries of Leelanau, the Old Mission Peninsula and the rest of the region pair perfectly with our local food and are winning awards and acclaim all across the country. The synergy between the wines and the local food scene are really unparalleled."
It's not just the food and wine, however. The region has long been one of Michigan's shining stars; a tourist destination that features world-class beaches, golf, shopping and all manner of vacation fun. Last summer, the viewers of Good Morning America selected the Sleeping Bear Dunes - located just minutes from Traverse City - as their Most Beautiful Place in America.
"The Traverse City Wine & Art Festival is the only event that brings together most of our wineries along with restaurants, artists and performers to toast our incredible wine region," Festival coordinator Laura Herd explains. "We have over 100 wines, and it's the perfect opportunity to meet our winemakers and to discover why so many Northern Michigan wineries are winning big awards."
Tickets for this year's festival are $20 in advance and $25 at the door. Lodging packages with area hotels are available as well through the festival website.
Links from this feature:
Mario Batali in Bon Appetit: http://www.bonappetit.com/blogsandforums/blogs/badaily/2011/07/mario-batali-travel-michigan.html
Yolanda Daly in USA Today http://yourlife.usatoday.com/fitness-food/story/2011-12-05/Wine-industry-succeeds-in-recession-weary-Michigan/51650552/1
Visit their Media page for complete links: http://www.lpwines.com/press
The Leelanau Peninsula Vintner's Association was formed in 2000 with a goal to help spread the word about all the wonderful things the Leelanau Peninsula has to offer including a growing number of award-winning wineries, excellent restaurants and a rich agricultural history. Today, it is the largest and strongest of the four organized wine trails in Michigan which promote the state's nearly $790 million grape/wine industry.
Leelanau Peninsula Vintners Association
231-421-1172
###