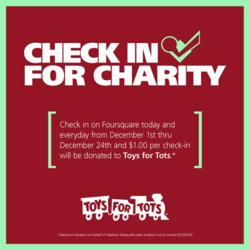 Foursquare's been wildly successful in helping retailers attract and repay loyal customers
Washington, DC (PRWEB) December 06, 2011
Madison Marquette is providing shoppers a way to give back this holiday season by donating a dollar to the Toys for Tots program for everyone who "checks in" on Foursquare.
"Foursquare's been wildly successful in helping retailers attract and repay loyal customers," said Kurt Ivey, Senior Vice President of Marketing and Corporate Communications at Madison Marquette. "This holiday promotion is a way of encouraging more discussion about our shopping centers while supporting a generous cause."
Shoppers checking in at Madison Marquette's participating centers will not only have continued access to retailers' check-in specials, but also support the Toys for Tots charity. Madison Marquette pledges to donate a dollar to Toys for Tots for each visitor checking in on Foursquare at one of its centers. Madison Marquette announced that it would contribute a minimum of $2,500 to the aid organization.
Participating centers include 8000 Sunset Strip (Los Angeles, CA), Bayfair Center (San Leandro, CA), Bay Street (Emeryville, CA), Beachcliff Market Square (Rocky River, OH), Glen Eagle Square (Glen Mills, PA), Hyde Park Village (Tampa, FL), MarketFair Mall (Princeton, NJ), Monroe Crossing (Monroe, NC), University Mall (Chapel Hill, NC), Village at Westlake (Austin, TX), and Waldorf Center (Waldorf, MD).
Madison Marquette's last promotion in April awarded one foursquare user a $1,000 American Express Gift Card and a trip to New York City when they checked in at one of its centers.
"Madison Marquette is one of the industry's leaders in innovative social media marketing," said Jen Augustyn, Partner at The Dealey Group. "We are thrilled to work with a company that recognizes social media's role in consumers lives."
Foursquare allows people to check-in to places using a mobile website, text messaging or a device-specific application to unlock specials and rewards.
ABOUT MADISON MARQUETTE
Madison Marquette has created many social media programs and recently launched http://www.centersocial.com to benchmark industry usage of social media. Madison Marquette is a Washington, D.C.-based investor, developer and operator of retail and retail mixed-use real estate throughout the United States. The company specializes in creating unique retail destinations that respond best to consumer preferences. With regional offices in Seattle, Los Angeles, San Francisco, San Diego, Fort Lauderdale, Philadelphia, New York and Charlotte. The company maintains a sophisticated in-house operating capability and oversees 20 million square feet of retail real estate. This diverse national portfolio includes many properties that Madison Marquette manages and leases on behalf of third-party owners. For more information about the company, please visit http://www.madisonmarquette.com.
ABOUT THE DEALEY GROUP
The Dealey Group is a full-service "tra-digital" advertising agency in Dallas, TX, that delivers best-in-class solutions for real estate clients. With an innovative approach to connecting with consumers, and an impressive portfolio of retail clients, The Dealey Group provides a cohesive team of professionals with experience in every facet of marketing.
###