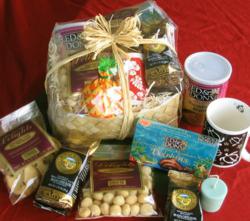 Every treat brings a special meaning of 'aloha'
Honolulu, HI (PRWEB) December 06, 2011
With Our Aloha, Hawaii's premier flower and gift company is pleased to offer custom gift baskets for the Christmas season. The web site allows visitors to select from dozens of authentic Hawaiian items including local favorites such as Kona coffee, macadamia nuts, cookies, chocolates and brittles. Spa items for women and men include bath salts, lotions, soaps and perfumes made with local natural flower essences. All items are made in Hawaii and many ingredients come from farms on the Big Island of Hawaii.
"Every treat brings a special meaning of 'aloha' to each person," said Frank MacMillan, owner of the company. "We believe in letting our customers choose their favorites. We use items from smaller, family owned bakeries, confectioneries and craftsmen, rather than the factory products found in big box stores."
The selected items are packaged in a woven lauhala basket or tropical print bag and shipped by 2 day FedEx.
The company continues to offer standard gift baskets and individual items.
With Our Aloha also offers special pricing is available for corporate events and gifts.
About With Our Aloha
Since 2000, With Our Aloha has provided Hawaiian flowers, leis and gifts to the US mainland and locally.
###