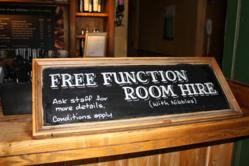 Pub Rooms recognized the need to help pubs and inns gain extra awareness by getting their locations clearly visible online, messages inside pubs are only seen by people in the pub.
London (PRWEB) December 08, 2011
The new pub rooms service has been opened up to pubs and inns across the UK. Pubs can claim their village or town and use it to promote their accommodation and function room hire as well as daily food offers.
It's a free service for pubs looking for that additional travel and accommodation channel to help tell their customers about offers and food menu, with another year of financial woe expected pub rooms is reaching out a helping hand for pubs and inns that want to be found by customers looking not just for pub accommodation but for all things that a good pub has to offer such as drinks, food, party room hire. This is the second service pub rooms has announced in the last month but this is a free service so pubs looking for help to be found should claim their pub location as soon as possible.
Pubs across the UK have been hit hard over the last 10 years, on average 100 a month are closing at least 50 for good.
There is a wide gap between pubs managing to stay open and pubs struggling to attract customers and staying open. The big pub chains run tight operations that allow them to advertise pub offers through multiple channels and by using brand advertising the consumer sees the offers without considering the local pubs who cant advertise their offers so loud.
Pub Rooms recognized the need to help pubs and inns gain extra awareness by getting their locations clearly visible online, by using simple internet marketing methods a pub can get their messages out to reach further than just the people in the pub.
Pubs that have made their claims for their pub town so far are The Bell at Boxford, Newbury, The George and Dragon, Dent Cumbria and The Windmill in Badby Daventry. Pubs in London so far claiming location are the Fox and Anchor and The City Pride ironically both in the same area. London is so vast it has over 3000 pubs but not that many locations, it's wise for London pubs to act quickly as only one pub will be allocated as the local pub for that area.
By using the promotional space on Pub Rooms pubs and pub hotels can add seasonal offers and news about their local pub. It's being able to provide local pub news to anyone searching to find a local pub in their arean and whats currently on offer, even if it's a quiz night. Local pubs in London can be the hardest hit if they don't get their message out as there are so many pubs in London to choose from. It's not just the rural locations that can suffer from lack of exposure.
This is just one of many up-dates pub rooms has planned for 2012. Most service that provide pub owners an opportunity to send out clear messages to customers are paid for. This is an internet service by pub rooms to help local pubs stay open by simply saying what they have on offer. The average person in the local community will not consider going to the pub for food as it's most often thought of as a place to drink. Yet pubs and inns across the UK over the last 10 years have changed from being just a pub to a place providing great food, accommodation and function rooms for family parties.
Not all pubs and inns provide good accommodation but most do have function rooms and service good food and drinks so it's simply about getting that message out to the locals and people visiting Britain and want to experience a proper British pub.
Pub Rooms was established as an online directory for pubs,inns & hotels in 2002. Founded by a Canadian lady travelling across the UK and staying in traditional old English inns the pub rooms directory grew to be one the UK's authoritive pub accommodation guides online. Covering all types of pubs and inns, including boutique luxury accommodation.
The pub guide took on a new look in 2008 after the pub guide included pubs with function rooms as well as B&B accommodation. With new features planned for 2012 the pub rooms guide has set its sights on being the UK's definitive guide for pubs & inns.
###