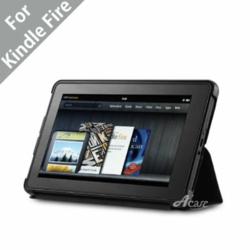 Ultra Slim, User Friendly Design with Fully Protection for Kindle Fire
Marlboro, NJ (PRWEB) December 06, 2011
Product Description
CTCStore introduces the newest Acase high quality cases for Kindle Fire Full Color 7" Multi-Touch Display.
Acase always use the highest standard to provide products for consumers. This time Acase again, present a case that combines protection, convenience, and beauty - Acase slim folio for Amazon Kindle Fire. Acase slim folio is designed to satisfy the expectations of all customers.
1. Ultra slim: thinness adds no bulk to Kindle Fire.
2. Full Protection with protective texture processing PU cover & delicate interior: the hardness of texture PC is higher than normal PC, so it is more powerful to resist the daily scratch and impact for the Kindle Fire; and the microfiber interior gives extremely soft touch and will not scratch the screen.
3. Detailed Cutouts make all ports accessible: no interference with Acase slim folio when using any function of the Kindle Fire.
4. Convenient clip design: super easy and fast to snap Kindle Fire in Acase slim Folio.
5. Foldable cover converts to built-in stand: bend over the front cover and make it as the tablet stand, soon customers can have hands free viewing device.
6. Attached elastic strap: the strap keeps the lid close and prevents the tablet from falling out.
7. High quality case: premium material & detailed seaming create a deluxe, premium case for the Kindle Fire!!!
This is without doubt the most full featured deluxe case available for the Kindle Fire. The Acase Slim Folio.
Product Features
1. Material: Front Litchi grain PU Leather cover / Back Polycarbonate cover with texture
2. processing / Microfiber Lining / elastic strap
3. Foldable lid for tablet stand
4. Protective & Anti-scratch cover
5. Soft interior will not scratch screen
6. Attached elastic strap for closure
###