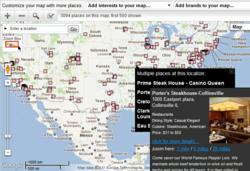 "We aim to be the one-stop locator for anything and everything that has to do with holidays."
(PRWEB) December 07, 2011
MapMuse today announced the release of its 2011 Christmas Maps, a series of web maps that locate Christmas-themed events and retailers across the USA. Some of the topics mapped include Mall Santas, Restaurants Open on Christmas, Sleigh Rides, Christmas Parades, Holiday Light Festivals, Christmas Lights Installers, and Christmas Light Displays.
"Christmas is always a big time of the year for us," says MapMuse owner Mike Pilon. "People are out and about, trying to find things. Our maps make their lives a bit easier." Although the company has already generated some buzz for its popular Christ Light Displays locator app, Pilon wants people to know that when it comes to the holidays, MapMuse isn't a one trick pony. "You'd be surprised at how many people need to know which restaurants are open on Christmas, or where they can find a nearby Mall Santa," he says. If it's up to MapMuse, they won't be looking for long.
A good amount of research goes into compiling the databases of the maps, which are updated on an annual basis as the holiday season rolls around. Although most of the data work takes place in-house, businesses featured on the maps also play a large role, as keeping their information current helps attract more customers. The same is true for non-commercial maps like Christmas Light Displays, which largely relies on home-owning holiday decorators to crowdsource the data. All newly added locations are vetted by MapMuse for accuracy and authenticity before going live.
MapMuse, an internet and app development company based out of Reston, Virginia, has a long history of creating seasonal and holiday-themed maps. Other than Christmas, some of the site's busiest times include July 4th and Thanksgiving, when visitors flocks to pages that map topics like Parades, Fireworks Shows, Turkey Farms, and Restaurants Open on Thanksgiving. "We aim to be the one-stop locator for anything and everything that has to do with holidays, says Pilon. "This year will be no different."
To view a complete list of MapMuse's Christmas maps, please visit http://www.mapmuse.com/xmas.
For more information on MapMuse, please visit their homepage at http://www.mapmuse.com.
# # #