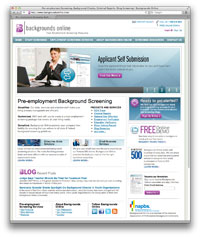 We've created a fast, user-friendly system that will augment and enhance any company's recruitment process.
(PRWEB) December 06, 2011
Backgrounds Online, today announced the release of Applicant Self-Submittal, a new service that allows job seekers to request and authorize their own pre-employment background checks. This service saves time for busy HR departments, helps prevent typos and other common errors associated with manual data entry, and allows a single hiring manager to accomplish a task that once took multiple personnel.
Service Accelerates The Background Screening Process
Most every company runs background checks on prospective employees. Applicant Self-Submittal helps speed up the process of requesting background reports by enabling applicants to submit and approve their own requests online.
"Aside from expediting the background screening process," said Christopher Ballas, CEO of Backgrounds Online. "Applicant Self-Submittal also holds job seekers accountable for requesting and approving their own background reports. This is a great first test for potential employees. It allows hiring managers to see how well, and how quickly a candidate follows instructions, which helps determine whether or not they are right for your company."
Service Saves Businesses Money During The Employment Screening Process
Applicant Self-Submittal was created to provide a faster method of managing background check requests. The service is designed to save time for Human Resources personnel and allow them to focus on other projects that are vital to a company's success.
Because Applicant Self-Submittal empowers a single person to manage the background check request process, the service alleviates the need for businesses to hire extra Human Resources personnel. This results in fewer expenses for any business, especially when a company is contending with a large number of applicants.
Service Helps Eliminate Typos And Other Common Data Entry Errors
For Human Resources personnel, filling out forms is an everyday part of the job. Manual data entry often leads to typos, transposed numbers and other common mistakes.
Applicant Self-Submittal helps eliminate these errors by placing the responsibility of filling out forms into the hands of job seekers. Candidates become accountable for ensuring the information they provide is complete and accurate.
Advantages For Seasonal Employers
Many businesses engage in seasonal hiring practices at one or more intervals throughout the year. Whether it is for holiday hiring, temporary hiring during peak production periods or any other reason, Applicant Self-Submit greatly reduces the amount of time and personnel needed to manage the employment screening process.
How Applicant Self-Submit Works
An authorized member of any organization may initiate the background screening process by sending the names and email addresses of either one or multiple candidates to Backgrounds Online. Once the submission is received, Backgrounds Online sends background check authorization forms to each candidate.
Applicants then fill out these forms themselves, and submit the completed documents with their personal authorization. Employers are notified when authorization forms have been submitted to Backgrounds Online, and again when the background reports are ready. From there, a hiring manager may review the results and use them to make educated hiring decisions.
"With Applicant Self-Submittal, we are able to provide several great benefits to our customers." said Christopher Ballas. "This service eliminates the need for multiple personnel to fill out background check request forms, helps prevent errors by putting the responsibility of filling out the forms onto the job seeker and creates a lifeline for business that engage in seasonal hiring. We've created a fast, user-friendly system that will augment and enhance any company's recruitment process."
About Backgrounds Online
Backgrounds Online provides authoritative background screening, drug screening and related recruitment solutions. Since 1997, Backgrounds Online has helped improve and accelerate the pre-employment screening process for every type of business, from small startups to Fortune 500 corporations.
For more information, visit http://www.backgroundsonline.com.
###