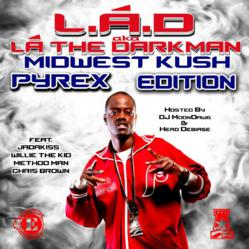 Miami, FL (PRWEB) December 05, 2011
Rap artist L.A.D, a.k.a LA The Darkman recently released his mixtape "Midwest Kush: Pyrex Edition." Coast 2 Coast Mixtapes, Embassy Ent., and Aphilliates Management present the project, which is hosted by both DJ MoonDawg and Head Debaise and now available for free download. "Midwest Kush" features L.A.D on tracks with Chris Brown, Jadakiss, Method Man, Willie The Kid, and Q Money Bags.
As a teenager in New York City, the Crown Heights, Brooklyn-bred emcee born Lason Jackson negotiated his first deal just as he was finishing high school. Having studied the game as a protégé of the Wu at the height of their success LA, who considers RZA a mentor, was more than prepared when an in-studio freestyle on Hot 97's "The Stretch and Bobbito Show" drew the attention of major and indie labels alike. Securing a distribution deal through Navarre Distribution, he released his debut album Heist of the Century in 1999 through his own Embassy Entertainment. The project, on which LA also served as A&R and executive producer, went on to sell over 350,000 copies independently. His success gave him an opportunity to tour internationally with the likes of Jay-Z, 50 Cent, and of course, the Wu-Tang Clan. Somehow, while he never stopped being an artist, LA's career as a businessman took precedence. Relocating to Grand Rapids, MI, LA launched a management company, invested in real estate, and opened and operated a children's clothing store. But he was always a musician.
Upon relocating to Atlanta, he partnered with DJ Drama and DJ Sense, brokering a label deal for the Aphilliates Music Group, a burgeoning brand which positioned itself at the forefront of the southern hip hop movement and is also home to his younger brother Willie The Kid, the label's flagship artist. Upon securing AMG's partnership with Atlantic Records, LA also negotiated a joint venture deal for Embassy Entertainment with Universal Records and a distribution agreement for Aphilliates Management through Asylum/Warner Brothers. He immediately took the reigns, rapidly assuming the role that has him heavily involved in the day-to-day operations of AMG, Aphilliates Management, and Embassy Entertainment. In addition to A&R direction for all of the label's projects, negotiating booking engagements, and brokering deals like DJ Drama's endorsements with LRG, Pepsi and KFC, LA also executive produced the highly anticipated Gangsta Grillz: The Album. Deemed an instant street classic, the project featured appearances by Outkast, Lil' Wayne, T.I., Young Jeezy, Nelly, Rick Ross, and Pharell.
Still, LA The Darkman remains as much a musician as he is a businessman. As he became more involved with the careers of the artists on the AMG roster, he again got the urge to create an album. Returning as a mature, more complete artist, LA continues to represent the same principles and convictions he always has. His is music that seeks to educate while entertaining, pushing the importance of strength, knowledge, and financial independence. His primary aim, however, is to continue to help hip hop grow. And with the added resources brought to his Embassy imprint through a joint venture with Steve Rifkin's SRC Records, distributed through the Universal Music Group, LA is once again set to take the world by storm.
"Midwest Kush: Pyrex Edition" is available for free streaming and download at http://coast2coastmixtapes.com/mixtapes/mixtapedetail.aspx/l-a-d-aka-la-the-darkman-midwest-kush-pyrex-edition
###