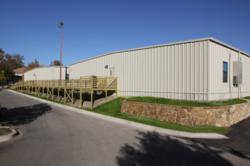 This will have a very positive impact on our ability to assist charter schools in the pre-planning stages of their facility requirements
Mansfield, TX (PRWEB) December 05, 2011
Ramtech Building Systems has announced that the company will be launching a new program on the benefits of using modular construction for charter school providers at its 20 acre campus headquarters located just south of the Dallas-Fort Worth Metroplex in Mansfield, TX. The initiative will provide an opportunity for the educators to learn about the recent innovations and practical applications in the use of temporary and permanent modular buildings when developing new schools or additions to existing campuses. The program will consist of privately scheduled meetings where teams of educators can meet with and explore Ramtech's capabilities through 'lunch and learn' sessions with the company's technical sales, engineering, and project management personnel. Tours of the company's manufacturing operation will also be part of the agenda, along with a demonstration facility consisting of a fully finished standard floorplan six-classroom modular wing addition with restrooms that will be available for viewing. Ramtech plans to have the program in place and operational in January, 2012. "This will have a very positive impact on our ability to assist charter schools in the pre-planning stages of their facility requirements" according to Gary White, Ramtech's vice-president of sales and estimating. "As a full service design-build construction company, we can provide them with a first-hand look at what we can be done using our approach to temporary and permanent modular buildings."
Since the beginning of 2011, Ramtech has secured orders for seven charter school projects of various sizes and complexity, bringing the total square footage under development to over 80,000 square feet. The company's experience closely matches the explosive growth of charter schools around the country as the movement towards more choice in education continues to take place. Beginning in 1995, a revision to the Texas education code established a new type of public school known as the charter school. Their purpose was to improve student learning, increase choice, establish a new form of accountability, and encourage new and innovative learning techniques. Like other states with strong charter school support, the growth in Texas has steadily increased each year since their introduction. There are now 215 open-enrollment charters available in Texas, along with an unlimited number of campus charters accessible to universities and local independent school districts. As of October 2011, there were 558 charter school campuses presently in operation that serve over 165,000 students.
All of the modular buildings used for charter school applications are designed and manufactured at Ramtech's Mansfield, TX manufacturing facility, part of a 20 acre development located in the southern part of the Dallas-Fort Worth Metroplex. The company has convenient access to the major transportation arteries that serve cities throughout Texas and the Southwest. Structured as a vertically integrated design-build construction company, Ramtech provides space planning, design services, manufacturing, site construction and finish-out on every project they produce. The company maintains a consistent workforce of production workers and supervisory personnel with an average of 13 years experience, many with tenures over 20 years. This experience, coupled with Ramtech's approach to modular manufacturing and construction, allows for greater control at each step in the building process resulting in significant time and money savings for their clients.
About Ramtech Building Systems
Since 1982 Mansfield, Texas-based Ramtech Building Systems has been providing innovative modular buildings for government agencies, healthcare providers, Fortune 500 companies, and educational institutions throughout the Southern United States. As a design-build construction company, Ramtech offers full in-house design, a manufacturer direct product, and complete site construction services all within a single-source solution. By emphasizing a value engineering approach, Ramtech has successfully completed over 2,500 prefabricated buildings for diverse projects of all sizes. For more information, visit the company's website at http://www.ramtechgroup.com.
###