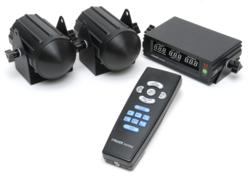 On the inside, it's all new Stalker engineering.
Plano, Texas (PRWEB) December 05, 2011
Stalker Radar's new Patrol traffic enforcement radar features an all-new, high-contrast LCD display, high-performance K-Band antennas, first-ever USB antenna connectors, and a backlit, infrared ergonomic remote control.
On the outside the Patrol has a strong family resemblance. On the inside, it's all new Stalker engineering and retains the same quality and reliability that law enforcement officers have come to expect from a Stalker Radar.
The Patrol's white-on-black, high-contrast LCD display is what the operator will notice first. Compared to LEDs used on other radars, the LCD display has increased daylight visibility as well as auto dimming for darker environments..
The Patrol's newly designed K-Band antennas are only slightly larger than Stalker's Ka-Band antennas and, like the Stalker Ka models, are completely waterproof. Its patented Digital Antenna Communications make the antennas immune to RFI and other electromagnetic interference.
USB-format cable connectors are used between the antennas and processing unit - a radar industry first - and are waterproof, low-noise, and secure.
Just like Stalker's other law enforcement radars, the Patrol features an ergonomic remote control with backlit keys and wide-output infrared control signal. Standard is a CAN / VSS OBD II cable for capturing an accurate patrol speed, as well as a 1-piece display/counting unit.
The Patrol is designed and manufactured in the U.S.A. by Stalker Radar, the World Leader in Speed Measurement. Law enforcement organizations, professional sports teams, and manufacturers around the globe requiring state of the art speed measurement applications look to Stalker Radar products for the utmost in quality and value.
For more information on the Stalker Patrol, visit StalkerRadar.com or call 1-800-STALKER.
###