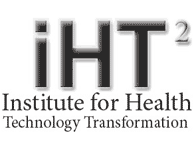 New York, NY (PRWEB) December 06, 2011
The Institute for Health Technology Transformation announced today that T. Forcht (Teo) Dagi, MD, Professor, Harvard Business School will deliver a keynote presentation at the Institute's CMIO Forum in Phoenix. The Forum is taking place January 17-18 at the Westin Kierland Resort & Spa.
Dr. Dagi's keynote presentation, entitled "Change Management & Processes in a Complex Care Environment" will review the latest organizational behavior concepts allowing the attendees to learn how to best manage change in complex environments. At the conclusion of the session attendees will posses practical approaches to facilitating and managing change in their organization.
The iHT2 CMIO Forum, designed by CMIO's for CMIOs, will bring together CMIOs, CMOs, and Medical Directors from North America's leading healthcare provider organizations. For two days physician executives will engage with an audience of peers and national thought leaders to collaborate on best practices and discuss strategies for implementation of the latest solutions in practice management, mobility, care coordination, and more.
Attendees will have the unique opportunity to gain insight and education on legal issues, change management strategies, optimal implementation strategies for new technologies and ensuring maximum earnings from stimulus incentives.
Partners for the iHT2 CMIO Forum include: Aventura, ICW, Association of Medical Directors of Information Systems (AMDIS), CMIO Magazine, DOTmed, eHealth SmartBrief, Frost & Sullivan, IDC Health Insights, MarketsandMarkets, Mobile Healthcare Today, The National Association of State Chief Information Officers, ReportsandReports, SearchHealthIT.com, and more.
About the Institute for Health Technology Transformation
The Institute for Health Technology Transformation is the leading organization committed to bringing together private and public sector leaders fostering the growth and effective use of technology across the healthcare industry. Through collaborative efforts the Institute provides programs that drive innovation, educate, and provide a critical understanding of how technology applications, solutions and devices can improve the quality, safety and efficiency of healthcare. http://www.ihealthtran.com
For more information about attending or sponsoring the iHT2 CMIO Forum in Phoenix please contact Matthew Raynor, Senior Marketing Manager, Institute for Health Technology Transformation 561-748-6281
###