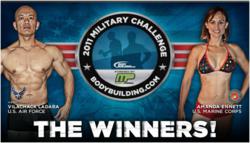 This contest was a great venue for Airmen to exercise core values. I believe working out and attaining physique goals epitomize all core values especially 'excellence in all we do'". - Vilachack Ladara, 2011 Bodybuilding.com Military Spokesman
Boise, ID (PRWEB) December 06, 2011
Bodybuilding.com, the Internet's most-visited bodybuilding and fitness site and largest online retailer of nutritional supplements, and Muscle Pharm, one of the fastest growing nutritional supplement companies in the United States, have officially announced U.S. Airman Vilacheck Ladara and U.S. Marine Amanda Ennett as their 2011 Bodybuilding.com Military Spokespersons. Bodybuilding.com believes exercise, nutrition, and supplements are critical weapons in the fight for a healthy body. They also believe a battle-ready dose of motivation is essential to achieving the best physique possible. As a result, they proudly support and salute American soldiers with the 2011 Bodybuilding.com Military Challenge.
Air Force Captain and proud father of two, Ladara, used the Military Challenge to get his six-pack back before his upcoming 40th birthday. "I believe the best motivation is through example, and I have dedicated my life to being a positive role model for my children as well as my fellow brothers and sisters in arms. I strive to exemplify the military's 'whole person' concept. The Air Force's core values are Integrity First, Service Before Self, and Excellence In All We Do. They remind us what it takes to get the mission done. They inspire us to do our very best at all times. They are the common bond among all comrades in arms, and they are the glue that unifies the force and ties us to the great warriors and public servants of the past. This contest was a great venue for Airmen to exercise those core values. I believe working out and attaining physique goals epitomize all of those core values especially 'excellence in all we do'". – Vilachack Ladara
A busy mother of two from San Clemente, California, Ennett never considered herself in poor shape but realized she needed to increase her strength in order to help others. "The Marine Corps gave me my start. There's so much emphasis on good, strong bodies... I wasn't overweight but a weakling. I could pull my own weight, but heaven help me if I had to pull someone out of the desert! During my first deployment I started lifting to pass the time. The second deployment I began to get more serious. I've since competed in 3 NPC (National Physique Committee) competitions and am a certified personal trainer. I really wish more people would care about their health and fitness... and more importantly the health and fitness of their children." – Amanda Ennett
Hundreds of contestants from various military branches battled it out for the coveted position of Bodybuilding.com Military Spokesperson. Contestants pledged an online goal to motivate others with their personal success story and dedication to health and fitness. They documented their progress for over one million followers via Bodybuilding.com's online social fitness community, BodySpace.
After much deliberation by Bodybuilding.com Judges, individual branch winners were announced (Navy: Benjamin Salb and Jenn Coulter, Army: Feather Wright and Alex Oler, Marines: Tulsa Simpson and Amanda Ennett, Air Force: Vilachack Ladara and Audrey Stock, Coast Guard: Johnny Johnson and Taylor Sue Hunter) with the final overall Military Spokesperson title going to Vilacheck Ladara and Amanda Ennett.
As the 2011 Military Spokespersons, Ladara and Ennett will become official athletes of TEAM Bodybuilding.com (participating in promotional appearances and a professional photo shoot), receive an $1,800 Bodybuilding.com gift certificate as well as a complete StayFit Package (including MusclePharm supplements, gym gift bag, fat calipers, fat loss monitor with scale, shaker cup and gym towel), and will have numerous online features on Bodybuilding.com's website. Most importantly, they will be the official representatives for the strongest force in the world – The United States Military.
For more on the 2011 Bodybuilding.com Military Spokesmodel Competition, visit http://www.Bodybuilding.com/Military
Bodybuilding.com offers more than 13,000 health and fitness supplements and accessories to help more than 11 million people every month achieve their health, fitness and appearance goals, as well as over 35,000 pages of FREE information, including more than 20,000 articles and videos, expert online trainers, and new content added daily.
###