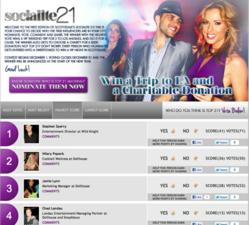 It's a fun way to let the users have a voice and see who is really making an impact in the city.
Scottsdale, AZ (PRWEB) December 05, 2011
SocialiteNation.com recently revealed its latest feature, Socialite21, which allows users to ultimately decide who the top influencers in their city are. The first edition of Socialite21 is focused on the Scottsdale, AZ region where the winner will receive a VIP Trip for two to Los Angeles along with a donation to the charity of his or her choice. Those that nominate a contestant and those that do not end up in the top spot are not out of luck as they are automatically entered into a sweepstakes to win a VIP Night out in Scottsdale including dinner and bottle service at a local, Scottsdale venue.
When asked about the goals of Socialite21, Socialite Nation Co-Founder, Kevin Tighe said "It's a fun way to let the users have a voice and see who is really making an impact in the city. These are the people that we will target for features, promotions and more in the future." The main factors in selecting Scottsdale for the first Socialite21 contest were the affluent social scene, the Internet-savviness of the city's residents and the overall demographic of the population. "Scottsdale is a great up and coming city with one of the strongest social scenes I've encountered outside of LA. We saw it has the perfect size and makeup for executing a contest such as this," said Tighe.
On the first weekend, users nominated over 40 people with hundreds of votes being cast. Socialite Nation will begin contest promotions this week and will run the contest through the end of December.
Visit the Socialite21 Page on SocialiteNation.com to view, vote, comment, share and nominate for your chance to win one of the two prizes.
About Socialite Nation:
Socialite Nation (http://www.socialitenation.com) launched in October, 2011 and serves as an online media hub for influencers ranging from models, musicians, reality stars, business people and more. The site is currently active in Los Angeles and Scottsdale where it covers local events, businesses, people, style, philanthropy and more. Socialite Nation is an entity of the INFLITE GROUP with offices in Los Angeles, CA an Scottsdale, AZ.
Find more from Socialite Nation on Facebook (http://www.facebook.com/socialitenation) and Twitter (http://www.twitter.com/socialitenation and the Socialite Nation Scottsdale Page. (scottsdale.socialitenation.com)
###