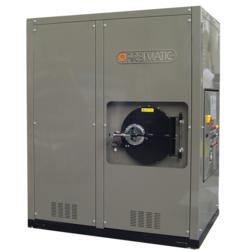 Cincinnati, OH (PRWEB) December 07, 2011
Cleaning Technologies Group, LLC and FIRBIMATIC are pleased to announce the addition of solvent cleaning systems to Cleaning Technologies Group's wide array of available cleaning technologies.
Cleaning Technologies Group has partnered with FIRBIMATIC, the world leader in alternative solvent cleaning technology, located in Bologna, Italy, to offer customers solvent cleaning systems. Cleaning Technologies Group is now the exclusive distributor for FIRBIMATIC solvent cleaning systems in both North America and China.
FIRBIMATIC metal-cleaning machines guarantee near-zero atmospheric emissions. Air re-circulation drying systems and advanced vacuum technology eliminate the need for exhaust smokestacks. FIRBIMATIC solvent cleaning systems can accommodate a wide range of contaminants, providing customers with consistent levels of surface cleanliness and an absolute guarantee of long term compliance with emissions directives.
"We are very excited to bring this important cleaning technology to our customers in North America and China through our new partnership with FIRBIMATIC," states Cleaning Technologies Group CEO, James McEachen. The partnership will enable Cleaning Technologies Group and FIRBIMATIC to combine innovative and advanced manufacturing solutions, resulting in solvent cleaning processes that meet and exceed the expectations of customers.
For more information about the new partnership and FIRBIMATIC solvent cleaning systems, please visit: http://www.ctgclean.com/solvent-cleaning-systems.php.
Cleaning Technologies Group, LLC is a world leader in providing innovative cleaning and waste minimization technologies to precision and industrial manufacturing markets. CTG is comprised of Ransohoff located in Cincinnati, Ohio, Blackstone~NEY Ultrasonics located in Jamestown, New York, and CTG Asia located in Suzhou, China. The Group is the premier provider of high technology, environmentally friendly parts-cleaning and waste-minimization equipment and services to the global marketplace. CTG LLC is a wholly owned subsidiary of NM Group Global, LLC.
NM Group Global LLC is a holding company for a growing group of manufacturing firms with a global reach for sourcing and marketing. Founded in 2002 with the purchase of National Machinery LLC, the original holding company, and world leader in the development and manufacture of cold forming machines, process technology, and aftermarket services. National Machinery, founded in 1874, is headquartered in Tiffin, Ohio with service centers and sales offices throughout the world.
Contact Information:
For Cleaning Technologies Group Asia- Suzhou, China
Enlin Zheng (Ned)
56 Songshan Road, Suzhou New District
Jiangsu Province, China PRC: 215151
(86) 0512-66161698
(362) 529-1244
elzheng(at)ctgclean(dot)cn
Visit our website at http://www.ctgclean.cn
For Cleaning Technologies Group, LLC:
Chris Whittaker
4933 Provident Drive
Cincinnati, OH 45246
(800) 248-9274
(513) 870-1787
cwhittaker(at)ctgclean(dot)com
Visit our website at http://www.ctgclean.com
For NM Group Global, LLC:
John Bolte
161 Greenfield Street
Tiffin, OH 44883-2471
(419) 447-5211
jhbolte(at)nationalmachinery(dot)com
Visit our website at http://www.nationalmachinery.com
###