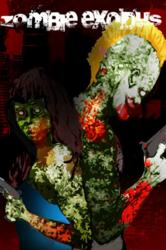 Do you have the brains to survive the zombie apocalypse?
Philadelphia, PA (PRWEB) December 07, 2011
Jim Dattilo and Choice of Games are pleased to announce the release of Zombie Exodus, a text-based zombie game for mobile devices. Build your character and fight your way out of a zombie-filled city to save your sister in this interactive horror fiction story. Gather supplies and weapons while avoiding the military, bandits, and living dead. Your choices alone control the story. Can you survive the zombie apocalypse?
In the classic style of text adventures which allow you to choose paths for your character, Zombie Exodus is an original story written and coded in ChoiceScript, created by Dan Fabulich of Choice of Games. It is a first person point-of-view story in which the plot progresses based on the user's choices. The first release of Zombie Exodus consists of two parts and eight chapters, while future parts in the series will be released on a quarterly basis.
"I grew up reading interactive fiction and hosting roleplaying games with friends," said Jim Dattilo, author of Zombie Exodus. "I created this game with a goal to give readers many choices to explore and to have them experience the terror and intensity of day 1 of an apocalypse. With the popularity of zombies exploding in recent years, I also wanted to bring back the horror and suspense of the genre with unique characters and a plot-driven story."
Choice of Games is offering the app for free, supported by advertising, or ad-free for $1.99 through in-app purchasing. The full version is also available on their Web site for free without advertising.

Jim Dattilo is a lifelong horror fiction and roleplaying game enthusiast. This is his first work of multiple-choice fiction. He is also co-founder of Philadelphia-based Reel 9 Productions, a media services group. Professionally, Jim is a Data Analyst, working at the University of Pennsylvania's Perelman School of Medicine.
Choice of Games was founded by Dan Fabulich and Adam Strong-Morse in 2009. They produce text-based interactive novels for mobile platforms and the web, combining the delicious freedom of the 1980s' choose-your-own-adventure style books with the depth and scope of a bestselling novel.
###