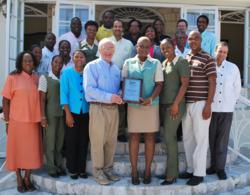 Managing Director, Gerald Giarla said, "The certification process was refreshing and rejuvenating and we are ready to embark on our 52nd season with a renewed sense of commitment and pride in serving our members and guests."
Hanover Parish, Jamaica (PRWEB) December 07, 2011
The Tryall Club's (http://www.tryallclub.com) high levels of client service performance continue to win top industry ratings year after year, including the most recent Hospitality Assured Certification, awarded by the UK's Institute of Hospitality. Tryall is the sole property in Jamaica to have earned this distinction (http://www.instituteofhospitality.org/).
Over the past few months, Tryall's entire management team and staff maintained outstanding grades in rigorous reviews given by external assessors, including challenging, testing and ultimately strengthening internal systems in business planning, customer service, and training and development. This comprehensive measurement process has reinforced Tryall's commitment to quality standards in a systematic way, and a focus on customer needs, customer satisfaction and increasing member and guest's loyalty, as well as improving overall business performance.
"Our entire team worked together to review our club's procedures and while we already had systems in place, HA helped us within the business to keep better track, target with greater efficiency and fine tune our operational procedures," said managing director Gerald Giarla. "The certification process was refreshing and rejuvenating and we are ready to embark on our 52nd season with a renewed sense of commitment and pride in serving our members and guests."
Hospitality Assured is a certification program promoting service and business excellence in tourism and hospitality companies. It is owned by the Institute of Hospitality in the United Kingdom, and managed by the Caribbean Tourism Organization (CTO) in the region.
"Caribbean businesses that have participated in the Hospitality Assured program recognize that the true value of the program comes from going through the rigors of addressing each of the 10 steps, putting in place the criteria, and ensuring that the entire team is on board, working with the program and contributing to its successful implementation. The certification is simply the validation for the company's diligent work in reaching that first milestone on the road to continuous business improvement and service quality excellence," stated Bonita Morgan of Caribbean Tourism Organization
Caribbean supported institutions include the University of the West Indies and Cave Hill Campus in Barbados (which collects and distributes benchmarking data on the program), as well as the Caricom Regional Organization for Standards and Quality (CROSQ) (the region's assessment body for the program). Funding support for the program is currently provided by the European Union/PRO€INVEST program and the Organization of American States. Hospitality Assured is in a pilot phase in eight countries: Antigua and Barbuda, The Bahamas, Barbados, Dominica, Grenada, Guyana, Jamaica and Trinidad and Tobago.
http://www.tryallclub.com
http://www.instituteofhospitality.org
http://www.onecaribbean.org.
The Tryall Club is the Caribbean's premiere luxury resort, located on the lush northern coast of Jamaica, 12 miles west of Montego Bay. The Club features 87 sumptuous private villas, (one to eight bedrooms) each uniquely designed and equipped with its own personal chef and private swimming pool. Set among 2,200 rolling acres that formerly housed a vast sugar cane plantation, the Tryall Club has been designated a National Heritage Foundation site.
The Tryrall Club first opened as a private resort in 1957 with an 18-hole, 6221-yard golf course designed by Ralph Plummer. In recent years, a series of imaginatively designed villas and impressive showcase homes have been added, establishing the Club as one of the Caribbean's truly elite villa vacation estates.
For more information, contact The Tryall Club, P.O. Box 1206, Montego Bay, 800-238-5290, or visit http://www.tryallclub.com
###