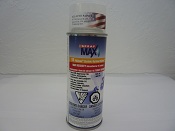 "Yes, it can be done with a Spray Can!"
Carson City, NV (PRWEB) December 07, 2011
How does this affect body shops and other small shops that paint metal and/or plastic parts? The rule requires the specific use of specified equipment and management practice. Shops must keep records of training, compliance activities, must submit reports, and notifications to the EPA or other designated agencies. Existing shops have three years to comply; new shops must comply upon start-up.
There are many requirements that the shop must obey. Three of the major requirements are: 1. Apply spray coatings in a booth, prep station or mobile enclosure; all with exhaust filters that capture at least 98% of the paint overspray. 2. Use of HVLP spray guns (or other application equipment with high transfer efficiency.)
3. Use enclosed gun washers. Also, shop owners must certify that their painters have received hands on classroom training. Training and certifications are valid for up to five years.
Required topics include: Selection, setup, and operation of spray equipment; application techniques to improve transfer efficiency; and environmental compliance.
One of the methods of application that is not affected is aerosol spray cans. Which can include spray can touch up paint, primers, and cleaners. With advanced spray can nozzles, aerosol touch up can be applied as if you were using a spray gun.
USC Chemical has developed a product called Spray Max. This is an advanced nozzle that does not leak, has a large spray pattern, and any color can go in the can. For small jobs, the shop does not have to follow the rule; it can continue to spray outside or in prep areas. This is the best way to get around the rule.
###