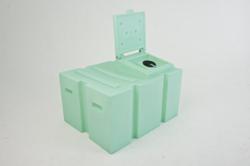 Time and again people told us the same thing: provide a complete system
(PRWEB) December 16, 2011
Collecting and recycling waste vegetable oil from restaurants has become highly competitive. Moeller Plastics' new line of specifically designed and engineered recycling containers can help renderers, recyclers and biodiesel firms dramatically increase customers, build loyalty and create new revenue for restaurant partners.
According to background research conducted by Moeller Plastics, there are 35,782 companies providing garbage disposal services in the United States today. Many of these companies are exploring the waste vegetable oil collection business.
Much of this waste vegetable oil is used by renderers and collectors to generate biodiesel. The National Biodiesel Board and the EPA state that, "Biodiesel is produced in nearly every state in the country and will support more than 31,000 U.S. jobs in 2011 while replacing nearly 1 billion gallons of petroleum diesel."
This opportunity is driving intense competition. Collection firms will need to market their services and position themselves positively in the minds of their customers in order to grow their collection accounts and raw material supply. But how is this done?
One path to success is consistent customer service. On time, all the time. Another strategy focuses on careful handling so as to avoid mishaps, spills and the like during the collection of waste oil.
Kit Rehm, Moeller Plastics' VP Marketing, suggests that collection firms have an opportunity to increase sales, create solid customer relationships and defend their position with existing customers by providing the right waste oil handling equipment. According to Rehm, "Moeller Plastics did research prior to developing a line of waste oil handling equipment. We spoke with restaurateurs, biofuel firms, renderers, and collectors across the country. Time and again people told us the same thing: provide a complete system incorporating well designed and durable collection equipment and I'll be your customer."
Based on all input, Moeller developed a system of waste oil collection and storage equipment designed to be reliable, fit within existing restaurant systems, and work for collectors.
Moeller's line of rugged plastic products includes a waste oil shuttle to drain fryolators and transport grease, a small transport caddy, grease carts designed to fit into tight spaces, an array of waste vegetable oil collection bins (100, 125, 150, 225 and 300 gallon capacities) and overflow containers designed to safely capture spills from 55 gallon drums.
Upon reviewing the new Moeller plastics line, Len Panaggio, a Newport Rhode Island restaurateur and consultant commented, "Grease is a dangerous product. Spill it, and it's a mess. Anything you can do to smooth the transfer from fryolator to grease bin is great!" Panaggio adds, "Your waste vegetable oil grease sled is really pretty cool."
Employee safety is a priority today and injuries from handling grease are not uncommon. Investments in the right oil handling tools just makes good business sense.
Further, Moeller oil storage tanks are complete with theft deterrence systems. They are extremely rugged and can be locked to protect grease from theft. Moeller's George Moore reports that, "My contacts are telling me that theft is a growing problem. What was once waste is now valuable, and is being stolen at increasing rates."
Earnie Cook, Director of Product Development, adds, "Moeller's line of products was developed to be durable – both functional and attractive over the long term. No rusting or seems to split. Your waste oil is not only secure, but the containment system can serve as an endorsement of your collection service – we can even put your logo on it."
To find out more about Moeller's profit enhancing line of non-corrosive polyethylene waste oil tools, contact Earnie Cook at Moeller or call 931-738-8093.
Moeller is a proven leader in the rotationally molded plastics industry and has been pioneering technology in fluid containment and storage for over two decades. Moeller has a deep knowledge of plastics, an innovative culture, and a proven track record in product design and manufacturing.
Moeller Plastics is a division of The Moore Company, founded in 1909 and still focused on innovation. Sister divisions include Moeller Marine, Darlington Fabrics, The George C. Moore Company, Fulflex, and AMER-SIL.
The Moore Company continues to manufacture products in the United States. International manufacturing facilities complement domestic capabilities while serving regional markets around the globe.
###