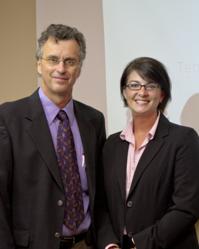 Schmidt discussed the number of TBI and post-traumatic stress syndrome injuries that soldiers are facing following the Iraq and Afghanistan wars. The veteran suicide rate is 120 per week, and there is no FDA-approved drug to treat TBI.
Jackson, Tenn. (PRWEB) December 05, 2011
Those who are curious about hyperbaric oxygen therapy — how it may help a variety of health conditions — are invited to a free seminar at the Tennessee Hyperbaric Center on Thursday, Dec. 15 at 6 p.m. Focusing especially on traumatic brain injury and post-traumatic stress disorder this month, attendees will view a video provided by the Navy League of the United States, participate in a question-and-answer session and tour the Tennessee Hyperbaric Center. The center, operated by Medical Director Dr. Roy Schmidt, is located with the Pain Specialist Center at 15 Stonebridge in Jackson.
Hyperbaric oxygen therapy (HBOT) is the only non-hormonal treatment approved by the FDA for biologically repairing and regenerating human tissue. Its off-label use may help a variety of conditions, including closed head injury/concussion, stroke, cerebral palsy, autism, Lyme disease, peripheral neuropathy syndromes/diabetes, reflex sympathetic dystrophy/complex regional pain syndrome, migraine headaches and others.
Schmidt and Kristi Hogg, patient liaison at the center, have had opportunities to discuss these applications at a number of venues. On Nov. 9, Schmidt presented a one-hour CEU training session in Memphis. His assigned topic was, "Treatment of Traumatic Brain Injury with Hyperbaric Oxygen Therapy." He outlined the history of HBOT and summarized several studies, including one conducted by Louisiana State University for wounded soldiers with chronic TBI.
Schmidt discussed the number of TBI and post-traumatic stress syndrome injuries that soldiers are facing following the Iraq and Afghanistan wars. The veteran suicide rate is 120 per week, and there is no FDA-approved drug to treat TBI. The only drugs approved for post-traumatic stress disorder are Zoloft and Paxil. Schmidt emphasized the urgency of addressing these needs.
The National Brain Injury Rescue and Rehabilitation Clinical Trial seeks to gather important data to help these veterans. The Tennessee Hyperbaric Center has registered to participate in this study.
Hogg spoke to the STAR Center's Parent Support Group Meeting on Oct. 18. She shared the story of Mayci, her 11-year-old daughter who battles mitochondrial disease and autism. Mayci was legally blind, experienced failure to thrive and battled epileptic seizures until she received HBOT treatments three years ago.
Through her family's experiences, Hogg has become a parent advocate for the International Hyperbaric Association. She also has founded Mayci's Miracle Fund, a West Tennessee Healthcare Foundation fund to provide high-quality medical needs and therapy for individuals and educational support for patients and their families. At the 2011 AutismOne national conference, Hogg received the Most Inspirational Parent award, which allowed her to reach out to even more individuals through magazine and radio interviews. As patient liaison for the Tennessee Hyperbaric Center, Hogg provides HBOT information, schedules consultations and assists with traveling and lodging logistics — working with others on staff to meet each patient's needs.
Hogg said, "Our family has been blessed through HBOT, the generosity of others and those who have given us hope when things seemed overwhelming. Anything I can do to reach out to others is just my small way of paying it forward." Hogg interacts with special needs patients and their families locally and around the world. She shares medical references, gluten-free/casein-free diet information, fundraising tips and encouragement.
While the Tennessee Hyperbaric Center plans to host free, on-site seminars each third Thursday at 6 p.m., Schmidt and Hogg will continue to speak to groups as opportunities arise. Schmidt is scheduled for an interview on Brain Injury Radio on Dec. 5 at 9 p.m., and Hogg will speak to the Jackson Exchange Club on Jan. 10.
The Tennessee Hyperbaric Center's six-person chamber has been certified by the State of Tennessee and is FDA 510(k)-cleared. In the chamber, patients breathe 100% medical-grade oxygen under pressure. This process drives oxygen into cells, reviving them or helping them function. An additional effect is growth of new blood vessels and long-lasting therapeutic benefits. More information is available by calling 731-660-2056, emailing info(at)hyperbaricoxygentherapies(dot)com or going online to http://www.hyperbaricoxygentherapies.com and http://www.facebook.com/Tennessee.Hyperbaric.
###