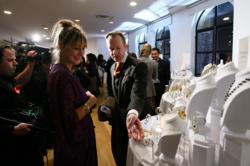 Our guests were pleasantly surprised that JTV offers such a vast selection of jewelry at prices their readers can actually afford.
New York, NY (PRWEB) December 06, 2011
Jewelry Television®, the nation's largest shopping network dedicated exclusively to fine jewelry and gemstones, presented its 2012 Signature Collections to more than 150 fashion and beauty editors from top national fashion publications, celebrity stylists and key influencers. The event – held Thursday evening at the Bryant Park Hotel in Midtown Manhattan – featured Double Happiness for JTV by Stephanie Wells, Bella Luce, Argento Dorado, and many other proprietary jewelry brands.
"We wanted to provide editors from the fashion industry a preview of what's in store for 2012," said Dan Chase, JTV's vice president of merchandising. "Our goal was to show the fashion industry what we have to offer and encourage them to borrow our jewelry for product placements, photo shoots, and celebrity clients. Our guests were pleasantly surprised that JTV offers such a vast selection of jewelry at prices their readers can actually afford. And there's no better place to host an exclusive fashion event than at the Bryant Park Hotel, a location synonymous with fashion and style."
Editors, stylists, and bloggers from Lucky, Family Circle, Elle, SELF, Real Beauty, Accessories, New York Post, MTV, VH-1, Rachael Ray Show, Wendy Williams Show, TV Shopping Queens, and dozens more were among the attendees at the invitation-only event. The evening began with a champagne reception where fashion and accessories editors were given the opportunity to browse jewelry and other fashions on display, including pieces from JTV's 2012 Signature Collection and the new Double Happiness Collection from designer Stephanie Wells.
"I cover many retail events in New York City and I've never seen so much beautiful jewelry in one place," said Michelle Lee, founder of TVShoppingQueens.com. "I'm continually impressed by the vast selection and reasonable pricing offered by JTV."
"I had no idea that Jewelry Television® offers instructional jewelry-making DVDs and supplies," said Liz Alvarez with Style MTV. "I fell in love with a peacock feather necklace. It was very haute couture and I found out I can make it myself!"
Guests were gifted jewelry from JTV, LIVE FashionABLE scarves, Julie Apple accessories, Jewel School DVDs, The Earring Style Book by Stephanie Wells courtesy of Random House, and bath items from DaisyMae PR.
"The event was simply spectacular," said Kelly Fletcher, owner of FletcherPR, a marketing agency that specializes in marketing to women hired to produce the event. "The Bryant Park Hotel is synonymous with fashion and Jewelry Television's gorgeous jewelry was the star of the show."
About Jewelry Television®
Jewelry Television® (JTV) is the only broadcast shopping network that focuses exclusively on the sale of fine jewelry and gemstones. The privately-held company was founded in 1993 and broadcasts high definition programming 24 hours a day, 7 days a week, to over 80 million unique households in the U.S. Jewelry Television® was recently ranked the 14th largest retailer of fine jewelry in the U.S. by National Jeweler. JTV.com is the fifth largest jewelry destination on the internet according to Internet Retailer's Top 500 Guide for 2010. For more information, visit JTV.com.
###