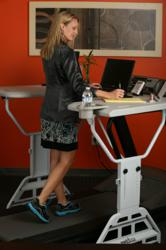 I can't imagine working any other way."
Scottsdale, AZ (PRWEB) December 05, 2011
TrekDesk Treadmill Desks have received favorable reviews on national and regional radio and television stations around the country. Spotlighted for its value and health benefits by Forbes, the Wall Street Journal and U.S. News & World Report, the reviews from Kentucky office, school and home users who use the TrekDesk on a daily basis have also been excellent. The University of Kentucky conducted an online interview recently with one of its staff members who gets a daily workout at work with a TrekDesk Treadmill Desk.
Kathryn Cunningham a University of Kentucky staff member, wife, and mother was constantly searching for ways to fit more exercise into her busy life until she found the TrekDesk Treadmill Desk. "I used to come home after sitting all day and sit some more. My lifestyle just felt sluggish. And I didn't like the way I felt," she related in an online campus interview. "I feel that my time spent walking and running throughout the day has helped me to think more clearly," she said. "I'm actually increasing my productivity."
Cunningham felt an immediate improvement in her energy levels in the afternoon as well. At a time when most employees feel a loss of energy and a need for a caffeine fix from coffer or soda, Cunningham felt the exact opposite. "I used to get really tired around that time," she said. "I became drowsy and always had this buzzing in my head. That slump in my day is totally gone now."
Regarding her adjustment from sitting at work to walking slowly while working as much as 7 miles per day with the TrekDesk, Cunningham explained, "I think that it's intimidating for some, but it's really become like driving while you're listening to the radio, I had a few days of adjustment, but after that, I was fine. I can't imagine working any other way."
"TrekDesk initially appeared on campuses across the country with researchers studying the impact of walking while working on overall health. Today, faculty and students. corporations and home office users alike are using the TrekDesk independently to boost productivity and enhance their mental and physical well being, " stated Steve Bordley, CEO of TrekDesk Treadmill Desks.
Designed to fit any existing treadmill, TrekDesk treadmill desk is an affordable, full sized, height adjustable workstation that allows individuals the opportunity to gain the necessary amount of exercise daily to maintain health, prevent disease, strengthen muscles, boost mood and productivity, without requiring additional time during the day or extra motivation. Workout at work with TrekDesk. No sweat!
TrekDesk is currently available for sale online at TrekDesk.com for $479.00 including free shipping.
Join the TrekDesk "Movement Revolution" to learn more on TrekDesk's Facebook page.
###